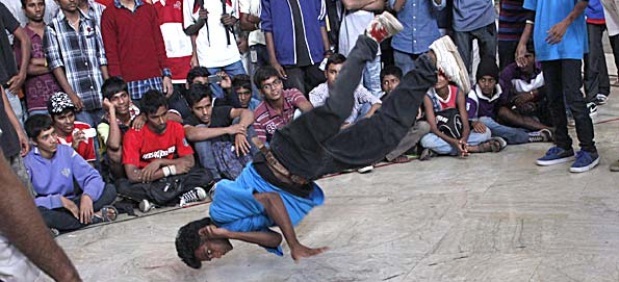 Hip-Hop is thriving in India, especially at "YOUDH", A Battle For Respect Bboy Jam held in Mumbai on February 19. There are a handful of souls making sure the essence and core elements of Hip-Hop stay intact as the culture spreads through a massive Desi (South Asian) youth population of over four hundred million. Organized by Noel Swami (Laffin Gas) and B Boy Ninja (Funky Disodaz), hosted by Mandeep Sethi and DJ Uri, performances by Mandeep Sethi, Microphon3, Blacklisted People and Femcee Vin – this was one of those crowning events in the history of Hip-Hop in India. International judges Prosenjit Kundu (Mumbai/Virginia), a professional dancer/instructor, Jardi Santiago (LA) a veteran House music dancer and B Boy Sonic chose the best of the best in each category:
Popping Solo – Ice Late
Breaking Solo – Mohammed Gunni (Roc Fresh Crew)
Crew On Crew – Roc Fresh Crew
House – Elvis AKA Style E
Check out how it went down!