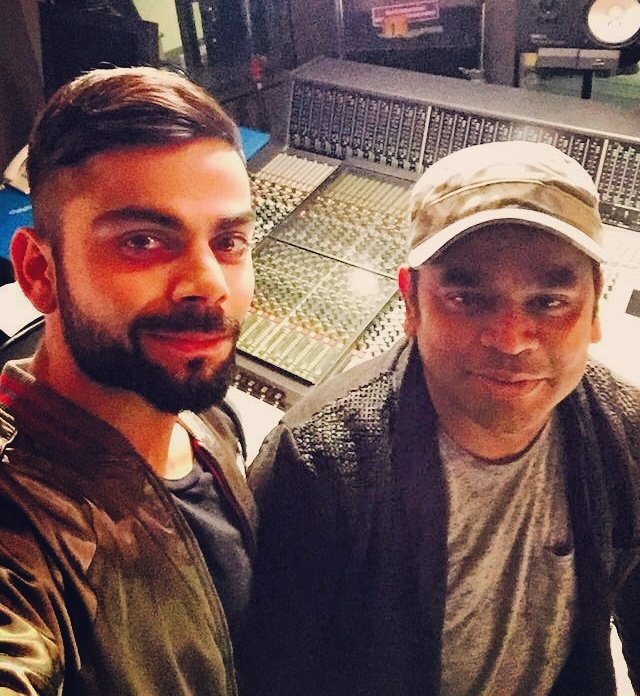 Virat Kohli has sang at diplomatic dinners, we all have seen the videos of him dancing his heart out at Rohit Sharma's wedding and many a Royal Challengers alongside Chris Gayle, Virat Kohli prepares to face his next acid test of putting down rhymes under the guidance of A.R.Rahman
The Indian Test captain, will be rapping a small portion of the official anthem of the Premier Futsal League. The anthem is being composed by A. R. Rahman, who had recently joined Salman Khan and Sachin Tendulkar as a goodwill ambassador for the Rio Olympics.
The anthem is called Naam Hai Futsal. The music video will be released in a couple of weeks and I read somewhere A.R. Rahman mentioning the following , "We've been working on the song for a week. Virat's portion will be a rap… I will make it easier for him."
"The lyrics for this song are in English, and we've been working on it for a week now – not sure how it'll turn out yet! The track isn't all rap though, it'll have a mixture of other elements as well," Rahman said.
An honor to have spent some time with the legend, Mr. @arrahman. Genius at work & epitome of humility. Thank You Sir pic.twitter.com/SQOn8JxqVu

— Virat Kohli (@imVkohli) June 6, 2016
Kohli, who was the top scorer in the recently concluded IPL, is quite tensed. "Many of my childhood memories have a connection to the tunes of this man. I know how to prepare for cricket, but I have no clue about a recording session," Kohli said.
"During any cricket game, the only song that gets everyone together is Vande Maataram – the version Rahman composed," said Kohli, whose favourite singer is Arijit Singh. Futsal is a shorter and quicker version of football. The five-a-side matches are usually played indoors. It is very popular in Europe and South America. We are waiting to see how will Virat Kohli sound on the track.