Courtesy of Mandeep Sethi, Zulu Nation / SlumGods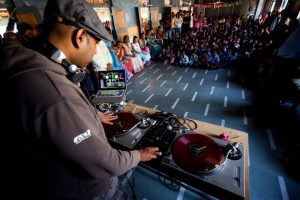 On Thursday February 2, 2012, a group of international educators and artists brought the culture of self-expression and empowerment known as Hip-Hop to the small rural village Vanz in the state of Gujurat. Led by DJ Uri, representing Tiny Drops India Hip Hop Community Center and Start From Scratch (UK), the group coordinated a trip from Mumbai to Vanz Gujrati Primary School in order to conduct a multi-dimensional workshop consisting of lessons in DJing, Breakdancing, Graffiti, and Music Performance. The group of educators who travelled for this outreach program included MC Mandeep Sethi (USA), Members of the Roc Fresh Crew Mumbai, photographer Joel Sames (Switzerland), DJ/Producer Nick Hutchins from LCMP (Leicester/UK), filmmaker Julia Matyschick (Germany).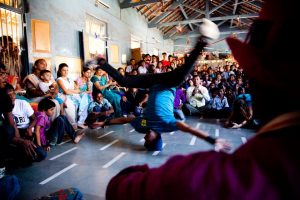 The day started off with a beautiful welcoming ceremony performed by the students of the Primary school, followed by an all out Hip-Hop performance by established Indian breakdance group Roc Fresh Crew, Zulu Nation and SlumGods MC Mandeep Sethi, with DJ Uri on the decks. The children's attention levels were at full blast as they were amazed by moves and dance styles most had never seen live before. The performance then moved into an interactive DJ Lesson with DJ Uri, who worked with the youths one on one, explaining scratch techniques using turntables and a mixer.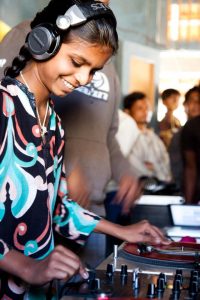 Mandeep Sethi then gave a rap performance, engaging with the youth using call and response. A few students even volunteered to come and perform songs on their own that they had learnt in school. In the mean time, Roc Fresh Crew had moved to another part of the school to lead a breakdance workshop with all of the youth interested in dance. They returned 40 minutes later with the youths, and performed in front of the whole school, leaving even the headmaster Mr Mahendra Singh cheering for more. Followed by the breakdancers performance, the students moved outside to enjoy a interactive graffiti art lesson with Joel, who helped the youth work on a canvas with the letters VANZ. The students were able to help Joel outline and colour the letters, and slowly everyone around came to sign their name on the canvas in their own style.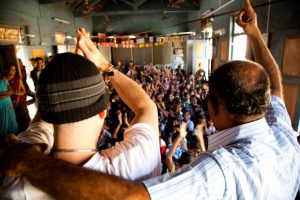 The event carried a personal energy for Uri, whose father help build the school and cultivate a curriculum reflected of what the youth truly need. A lot of his younger family members attend the school, and it was great for him to expose them to his career and give them more of an understanding on what his does in Mumbai. The event was an absolute success and the children were all left smiling and wanting more. The head teacher of the school was overcome by the reactions and enthusiasm of all the children that participated. There are plans by the group to follow up with a continuation of the workshops in order to reinforce the lessons and continue spreading the empowerment that is associated with Hip-Hop culture.

Photography by Joel Sames