The Desi Hip Hop movement stands in support of Hazare, giving a voice to the people and youth of India. If you ever wanted change, this is the time to get up and do something about it!
Anna Hazare, who was arrested Tuesday as he was about to stage an anti-graft hunger strike, now refuses to leave his jail cell.  Tens of thousands of Hazare supporters stage demonstrations across India, giving India's ruling congress party one of it's biggest political crisis in years.  Hazare has become a lightning rod for this grass-roots frustration. Through a series of hunger strikes, he has built support for a controversial bill that would create an ombudsman — or lokpal —empowered to root out high-level corruption. The government has tried to weaken the bill by exempting the prime minister's office and top judges from its scrutiny and making the post strictly advisory.  "You have a young, rapidly rising middle class that's changing the country's politics, as seen with this anti-corruption movement," said Gurcharan Das, an author and columnist. "This is the trailer of a movie in 2020 when the middle class becomes 50% of the population. It's a double feature, politics and the economy."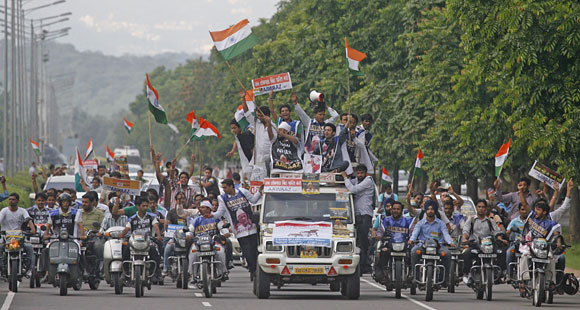 Bike rally organized by supporters of Hazare.