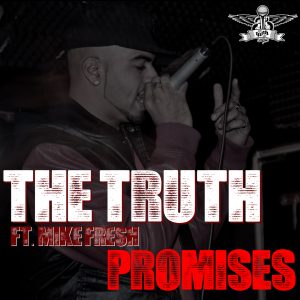 'Living the dream' is a common term that's thrown around when it comes to describing an artist these days. Making music for a living, touring the world doing shows and rubbing shoulders with known celebrities at prestigious events.
But what we rarely get to see or hear about is the sacrifices that come along with the lifestyle. One Desi Hip-Hop artist that's definitely making those sacrifices is UK Rapper 'The Truth'. It has been widely promoted on Twitter (where you find out most things about artists these days) that The Truth has flown Stateside, and is working hard on making a name for himself where it matters most, the hub and birthplace of Hip-Hop and Urban music.
After a momentous debut year in the UK, releasing 5 singles, a Glastonbury performance and a Brit Asia Award for Best Urban Act, The Truth is currently setting up base in America's West Coast, where he has already begun to put in the work. With an independent label and a recording studio in the works, The Truth has released his first piece of music from across the pond collaborating with up and coming U.S Rapper 'Mike Fresh' on a song titled 'Promises'.
The song is produced by Bobby Wonda, and illustrates just how adaptive The Truth can be in a given environment. He has definitely taken influence from the ever-present Dance Scene in the U.S and given us a commercial dance-floor number to test the waters.
The Truth has decided to give his first recording from the USA away as a free download so make sure you're heading over to www.thetruthmusic.co.uk where you can keep up with The Truth and his antics in America.
DOWNLOAD HERE!!
[wp_media media="audio" title="Promises" artist="The Truth ft. Mike Fresh" volume=0.8 start="on" preload="on" urls="http://desihiphop.com/wp-content/uploads/2012/01/The-Truth-Promises-ft-Mike-Fresh.mp3″]