The Slyck Experience at "The HUM HIP HOP Project"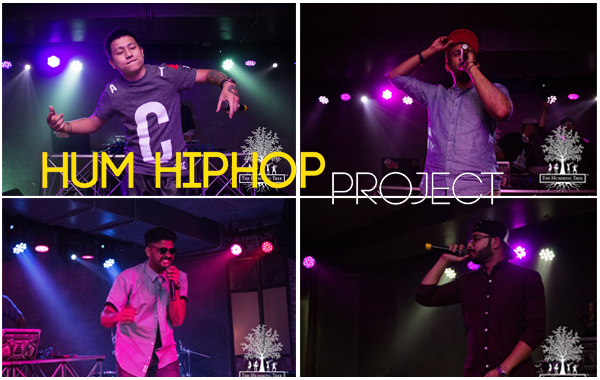 I was supremely lucky to get a call from Smokey to perform at the 3rd edition of the Hum Hip Hop project alongside Urmi and Young Dirrt. There was no denying that I was nervously excited about going to Bangalore and performing there. Firstly because I am a North Indian and was not aware of how the southern audience might react to my music and secondly if you are from Bangalore or even around it, you would be aware of how big a venue The Humming Tree is but it is safe to say that this was an experience I will never forget for all good reasons.
After several conversations with Smokey over the phone and all possible social media interfaces I moved out on 20th morning towards Bangalore. After a long and tiring journey in a multi axle bus and not the most fragrant co-passengers I finally reached Bangalore. As if the journey was not exhausting enough, I then had the annoying task of dealing with the auto drivers. There are a lot of things which where said to him and if they are mentioned over here then most of this write up will be censored (after all I am from Delhi). But never mind, I arrived at my homies place kicked back and took the night off.
The next day without wasting time, I arrived at the venue and was the first one there. I was received very warmly by the organizers and the team at the Humming Tree. Smokey The Ghost joined me after sometime, and this was the first time I met him after knowing him on Facebook for about 8 years and our online beef. Conversations over beer included the topics, "how Desi hip-hop is ?, how the Indian audience perceives it, how rap in commercial bollywood music has affected the underground". There was obviously a difference of opinions at a few things but we both were mature enough to agree to disagree. Soon we were joined by Urmi, who was also an English emmcee and just a 3 minute conversation with him made me believe that he was going to be a phenom on the stage. Dj Lethal A was on the console for the evening and he has been grinding it out for a long time. He is an old school preacher and his scratches on the turntables were proof of how big a fan he was of the Old school. Also be on the look out for an exclusive interview with DJ Lethal A on DesiHipHop.com.
We were joined by Young Dirrt and we wasted no time in going for Sound Check. The sound check was highly electric and I can say this without a doubt that The Humming Tree has one of the best sound systems in Bangalore. It was around 6 o clock and people has started flocking in. As promised the movie, "Straight outta Compton" was screened to educate the audience about the origins of hip-hop music and how the worlds most powerful rap group, NWA used their music to voice their opinion. I would also like to mention in case any does go to the Humming Tree, you absolutely have to try their "BEEF BURGER", it is full of flavors, it is juicy and has everything what you would want in a burger.
Just when the movie finished Smokey took over and invited Urmi to open up and get the show going. I had found comfort in the fact that everything was falling into place and it is exactly then the first technical glitch hit us. There was a problem in the turntables which was not getting fixed right away and Vachan Chinnappa who was the headliner, himself got involved in trouble shooting the problem. Meanwhile Smokey and Urmi took over the mike and just spoke to the crowd about hip-hop and invited me to beatbox and also drop an acapella. It was phenomenal how Smokey and Urmi handled the situation and made sure that the crowd does not lose interest. The problem with the turntables was diagnosed and fixed, the show finally started.
Urmi opened up the show just like Virender Sehwag who used to go ham on the opposition attack, his stage presence was flawless and his interaction with the crowd was highly entertaining, proudly as well as sadly for me a few of my homies came through to checkout my music but actually left the venue as his fans. Young Dirrt also put the stage on fire and was super turned up. Smokey performed on n****s from paris and kept the crowd alive and pumping. I was fortunate enough to actually have these talented dudes to have performed before me because they had set up the stage. I wasted no time and got straight to the performance and boy oh boy what an experience it was. The crowd seemed to love the music and my personal favourite moment was when I played my latest release, "Time and Age".
Check out Time and Age right here :


Once the rappers were done Vachan Chinnappa took over and everyone had a blast, there were a few B-Boy's in the venue who put floor on fire which you will be able to see in the videos soon. Bishmen Productions was covering the entire event like always and will be releasing a dope episode for this edition of The Hum Hip Hop project as well so stay tuned.
The Hum Hip Hop project is one of the dopest ways for an artist to perform live and also get recognized in the process. It was an experience I will not forget. You guys have got to watch out for the G-Host report on this edition of The Hum Hip-Hop project which will be dropping soon.