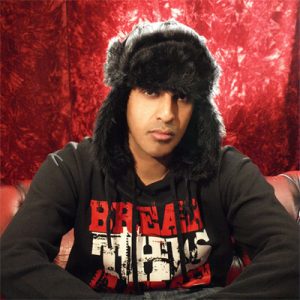 Having been initially shortlisted in the 'Bite My Music Global Awards 2012', one of the World's biggest independent music awards, Swami Baracus has now been officially nominated in THREE categories… Best Hip-Hop Act, Best Hip-Hop Song and Best Cross-Genre for 'Break This Game'!
The Bite My Music Global Award (BMM awards) was created to provide independent and unsigned musicians with a voice and to unite all musicians across the globe on one platform. With the participation of more than 1000 acts from across the world from more than 50 countries, the selection process for nominees was highly competitive, making SB's recognition as one of only a handful of acts chosen from the UK all the more noteworthy!
Swami himself had this to say, 'It's a big achievement for me to be nominated! As an unsigned artist from West London, funding everything by himself, it proves that hard work and dedication can be eventually be recognised. The fact this is a global event just shows how universal music can be, and if it inspires others to do the same, then fantastic!'
All the winners will be selected on a combination of public and judges votes. Voting for the awards begins on March 10th till March 31st, with links available on www.bitemymusic.com from the 10th. So, please get voting and help support the 'Baracuda' on his global quest!
Rapper Swami Baracus has been on the music scene for a number of years and has featured on smash hits such as: 'One Blood UK', 'My Shoes', 'Brown Boys' and 'This DJ'. He has previously recorded material with Nutty P, Genesis Elijah, AC, Mic Assassin and General Levy. Having received substantial airplay from BBC Radio 1, BBC 6 Music (Tom Robinson), BBC 1Xtra, Kiss 100, Galaxy FM and BBC Asian Network, Baracus has performed at the UK Asian Music Awards press launch and was the first Asian rapper, to be featured on the UK Dubstate segment on DJ Excalibahs legendary 'Tales From The Legend' Hip-Hop show on BBC 1Xtra. Baracus is also the winner of the Asian 8-Mile MC Battle contest, which took place at 'Bombay Bronx' hosted by Radio 1 DJ Nihal. He was also nominated for a BritAsia Award in 2011, for Best Urban Asian Act.
Check more from Swami Baracus on SoundCloud: