TaZzZ – TEARDROPS ft. Rita Morar & Raxstar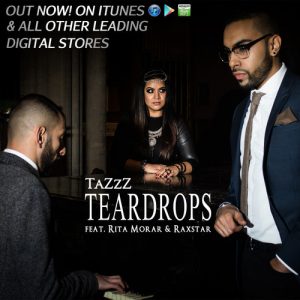 London based rapper/producer TaZzZ releases "Teardrops" the first single from his forthcoming debut album.
He displays growth and maturity with this single enlisting the talents of Rita Morar & Raxstar to weave a story of heartbreak and love that is lost. Handling production duties himself and also contributing a verse of his own, TaZzZ shows his multi faceted skillset and impresses on all accounts.
[youtube id="1Tg6e6Wyz2A" width="600″ height="350″]
AVAILABLE TO PURCHASE –
iTunes: http://goo.gl/sbAcDK
Google PlayStore: http://goo.gl/a6vC6T
Amazon MP3: http://goo.gl/6wH9At
Follow him on:
Facebook
Soundcloud
Twitter