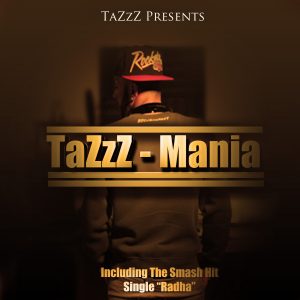 TaZzZ: this name keeps popping up time and time again. It's not hard to miss when you see it on screen, and after you've heard this mixtape, it may be one that's quite difficult to forget.
First we brought you TaZzZ's 'Radha', produced by him and featuring himself alongside some of the biggest and best Burban names hailing from the UK. Then we brought to you TaZzZ's 'Lost In The Game', a hard-hitting beat produced by Dub Sharma establishing TaZzZ as a powerful and distinguishable rapper.  Don't say we don't treat you well, as now we're bringing to you TaZzZ's latest release, the full 14 track mixtape from which both 'Radha' and 'Lost In The Game' were taken, cleverly titled 'TaZzZ-Mania' and with 14 tracks that are just as hype-worthy as the title!
'TaZzZ-Mania' is TaZzZ's debut mixtape release into the Desi Hip-Hop world, grounding himself as a highly-talented producer and rapper concurrently. The intro to the album immediately gives you a taste of what's in store, as it's a crazy fusion of a Desi Bollywood sample mashed up with a beatboxing/hiphop element. And this is, in basic terms, what this collection of music is all about. Taking a little bit of bhangra, a large helping of Bollywood, some Burban flavour, a sprinkling of dubstep and stirring it all up in a big bowl of hiphop has left us with this crazy mixtape, 'TaZzZ-Mania'.
One track that stands out to us as distinctively hiphop is 'Stay Hungry' featuring Mandeep Sethi and the UK's own Baracuda, Swami Baracus, fusing real talk and real rap with a haunting Bollywood sample. 'TaZzZ-Mania' took TaZzZ all over the world in his mission to integrate all his musical influences together. TaZzZ told Desi HipHop exclusively,
"TaZzZ-Mania is a very personal project for me… I got to explore a lot of genres and use my diversity of being a producer as well as a rapper… TaZzZ-Mania shows how much I have matured throughout the years, and how my knowledge of music is increasing."
At the end of the mixtape there is also a snippet of track called 'Tere Bina' featuring the vocals of a young lad called Elijah; TaZzZ's own protégé who he will be launching very soon too. For the young or old Desi HipHop listener, 'TaZzZ-Mania' certainly has a little something for everyone. TaZzZ definitely has the ability to create mass mania with this compilation of Bolly-Banging-Hiphop, so go and download your free copy and join the hype now!
Free TaZzZ-Mania Download Link: http://www.mediafire.com/download.php?38i9j723cxdwxls