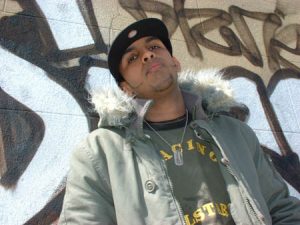 West London-based rapper Swami Baracus has been rapping from a very early age, crafting his style and flow, whilst developing his lyrical content. Having been influenced by a diverse range of urban rap acts and through his ethnic background, he wrote from the perspective of a British-born Asian representing on the microphone and detailed reflective accounts on society, current affairs and issues.
Eventually, dedication prevailed, culminating in a meeting with legendary Asian DJ/producer, the Xzecutive San-J Sanj. His first break was being featured on San-J Sanjs Club Bomb-Bass show on the pioneering BBA Radio. Though initially only commissioned for a one-off appearance, he became a regular during Sanjs 4 week slot, with freestyles and verses over top Hip-Hop beats. Having continued to do gigs with Sanj and Ameet Chana and appearing alongside top DJ acts, Sanj and Swami eventually got together in the studio to record the hit track Where U @ Bro, which received substantial airplay from BBC Radio 1, BBC 1Xtra, Kiss 100, Galaxy FM and BBC Asian Network.
Through the success of the tune, Baracus performed at the UK Asian Music Awards press launch event and was the first Asian rapper to be featured on the UK Dubstate segment on DJ Excalibah's legendary 'Tales From The Legend' Hip-Hop show on BBC 1Xtra.
Having won the 2006 Asian 8-Mile MC Battle contest at Radio 1 DJ Nihal's monthly clubnight 'Bombay Bronx', Baracus has since featured on hit tracks 'One Blood UK', 'My Shoes', 'Brown Boys', 'This DJ' and 'United We Stand', as well as performing at numerous events across the country.
After a brief hiatus, SB released a comeback single, 'Break This Game', which received huge critical and commercial acclaim. The video was Number 1 on the BritAsia TV Chart Show, and the subsequent Hindi version has been playlisted on BBC Radio 1 and radio stations abroad. Currently recording his forthcoming solo mixtape featuring the top artists and producers of the scene, check out more from SB in the coming weeks and months!