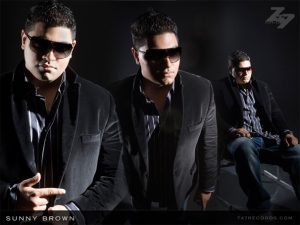 Sunny Brown, a singer, composer and producer has been preparing for what is set to be an amazing journey. Sunny Brown is no new-comer to the music scene. Hailing from a family of musical background, Sunny Brown practically has music flowing through his blood after being trained in the arts from the moment he was born from his father. Now, he is taking what he has learned from his father and putting his spin on it, introducing the market to a unique style of singing and producing South Asian music.
Sunny Brown has been involved in the music scene for the past five years, from playing music and singing at local events and parties to producing tracks for various artists in Canada. At a young age, Sunny Brown's sample tracks created a buzz in the market as he slowly began developing a fan base. In 2007, Sunny Brown recorded his first single, called "Soniye Ni" that set a new tone in the industry and thus showed a new side to Punjabi music.
Soon after, Sunny Brown's voice and production work caught the attention of "Canada's Number One Club DJ" Baba Kahn to work on a release for the first ever South Asian and english MIX CD compilation entitled Culture Shock: East meets West. The Album distributed by SPG and Universal Music Canada, has helped to bring Sunny Brown's unique sound to the masses.
The result was an overwhelming success with the release of a groundbreaking single featured on The Culture Shock Album called "Tonight". The club anthem "Tonight" features legendary hype-man Fatman Scoop and Konvict Recording Artist and Hip Hop Superstar Kardinal Offishal, along with Canada's newest R&B sensation Lomaticc. This track was written by Sunny Brown and produced by Lomaticc and Baba Kahn. "Tonight" hit the airwaves, running with airplay in Canada on FLOW 93.5FM and several mix shows across the Country. The feedback from South Asian based radio shows worldwide was incredible, with massive play in New York, Chicago and oversea in the U.K.
Sunny Brown's versatile voice and music production has set him apart from other South Asian singers, putting him in a category all of his own. The future is bright for Sunny Brown as he is currently working on completing his highly anticipated album set to release in 2009. The album to be released by 747 Records will be a mix of Urban and Bhangra Anthems with a fusion of South Asian sound.