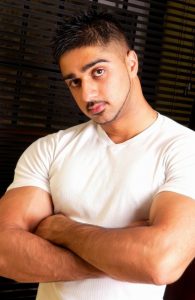 East London based UK rapper Shizzio is promoting his new mixtape Invasion of Privacy . The 20 track mixtape features the Miami & Venezuela number 1 hit 'Put up your Breitling' and 'Go Girl' featuring Fire camp!
Leading the way of British rap, Shizzio combines UK urban rap with elements of his Asian heritage thus bringing a uniqueness of lyrical content and narrative structure to the music scene. It can be said that this is one of the main reasons Shizzio's music appeals to everyone as he delivers the best aspects from numerous musical genres and manages to fuse them with the urban day to day struggle we all face. "I'm just talking about life as I know it!" Shizzio is from the same streets as Kano and Lethal Bizzle, and like them he has been rapping for numerous years, perfecting his lyrical capability and effortless spot on timing.
2007 saw the release of 'Arabian Dance' which catapulted Shizzio both nationally and internationally, leading to numerous tours up and down the UK. The Video featured Tim Westwood (Radio 1/ MTV pimp my ride uk) and Kat Man (Choice FM/ MTV). This video was a huge success, further cementing the arrival of Shizzio. Shizzio was quickly approved by DJ Bobby Friction (BBC Asian Network/ Radio 1) as a 'Future Friction Artist' and has since been in Friction's top 5 chart on four separate occasions, holding the number 1 spot twice. 2007 was also the year his debut mixtape '1st Things 1st' was released. The mixtape was hosted by Kat Man (Choice Fm/ MTV) and featured the likes of grime king Wiley, T Pain and Cassie to name a few. His mix of Cassie's smash hit "Me & U" was even voted on London's Kiss 100 to be better than P. Diddy's version! London's number one urban station Choice FM also showed massive support as they put Shizzio at number one in their official 'Artist to look for in 2008' chart. 2007 also saw Shizzio's acting career being exposed as he played a role in the Bollywood Brit Movie entitled 'Scotland Express'.
2008 saw Shizzio continue to perform all over the UK, breaking into independent charts with singles such as 'Sari' featuring Big Narstie (N Dubz) and 'Put up your Breitling'. 'Put up your Breitling' was the track that took the Shizzio name to new heights worldwide. The track was number one in Miami for an amazing 5 weeks and spent 4 weeks on top of the Venezuelan charts. Beating artists such as Madonna, Britney Spears, Shakira, Christina Aguilera and Daddy Yankee, this lead to a huge amount of work and promotion worldwide, opening all kinds of avenues (some which are still currently being pursued). The Track is still being played in over 150 countries worldwide and has proven to be a real party anthem.
2009 is upon us and Shizzio is showing no signs of rest bite. The mixtape 'Invasion of Privacy' is here and ready to be unleashed. It Features UK heavyweights such as Big Narstie (NAA/ N Dubz), Fire Camp, Elite Team (headed by former Jump Off freestyle champion Mic Assassin), Akira The Don & Savana (worked with Junior Reid, Lumidee and Leona Lewis) to name a few and is sure to be in play lists throughout the music industry. This sets the tone for his debut album which is scheduled for release this Summer/ Autumn. With production from Tigerstyle, Mavrik & Fitzroy Wizard Blake, the debut album is shaping up to be a definite industry shaker. Artist features are huge but will remain a surprise until further notice.