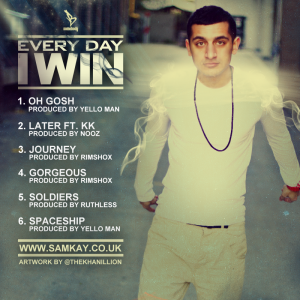 Valentine's Day leaves some of us roses and teddies; for others it leaves a bitter taste on the tongue or a sense of nothingness. But this Valentine's Day leaves us with Sam Kay's latest offering, 'Gorgeous', available to the public as a free download – a Valentine's gift from him to all of us.
Kay's last release was the EP, 'So Many Dreams' released on iTunes under the name of Sam Khan in July 2011. It seems the talented young rapper has spent a decent amount of time away working on not just his music, but himself too, in order to reappear to his audience and legion of loyal fans as Sam Kay. He recently tweeted,
"I started as Sam K, learnt a lot as Sam Khan… Sam Kay's the complete me. Im still the same just better!"
One thing we can say for sure is that his music is just as good as it's ever been. 'Gorgeous' makes for easy listening, with a delectable beat, soft, smooth bars and even Kay himself singing on chorus. Whoever he's singing to is one very lucky lady indeed!
Being played on radio stations across the UK, 'Gorgeous' is proving highly popular already and was definitely a great way for Sam Kay to make his comeback to the desi Hiphop scene. This one will last a lot longer than flowers or chocolates so get your free download from the link below and check out the promotional video now.
Sam Kay told us he will be releasing a brand new EP entitled 'Every Day I Win' next, so we'll be keeping an ear to the ground for that. Until then, sit back and enjoy 'Gorgeous'!
Get your free copy of  'Gorgeous' from  http://SamKay.co.uk now!