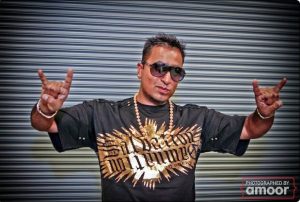 Roach Killa is an award-winning Pakistani Libyan-born recording artist resident in Canada.
Born in the Saharan city of Sebha, Libya, Roach Killa migrated with his family to Canada at the age of ten. At 12 he developed an interest in urban music and particularly reggae, inspiring him to become a reggae artist.
Roach Killa has toured Europe, Asia, and the Middle East, and has an international fan following. His songs have received airtime on commercial radio stations across Europe, and his single "Yaara Dildaara" reached the number one ranking on the BBC Asian Network Music Chart in October 2009. Another song, "Bomp", was produced and recorded in Milan, Italy by Articolo 31, released by Sony/BMG, and reached 15th place in the Italian Dance Charts. A third song, "Talkin", was released by EMI/Virgin UK on the Dancehall Selecta CD, alongside artists including Sean Paul, Beenie Man, and Elephant Man.
Roach Killa also collaborated with Jamaican reggae musician Spragga Benz and British multi-platinum selling artist Apache Indian on his debut album, Revolution, which was released in summer 2008.