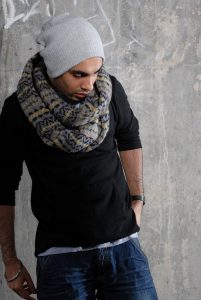 Raxstar is no stranger to the music business. Writing songs for over 10 years and breaking through into the Asian music scene in 2005 with "Keep it Undercover", he has slowly built a fanbase by making music that people can relate to.
"Keep it Undercover" told the familiar story of a young person wanting to be with a forbidden partner and having to keep it a secret from their parents, albeit with a little twist at the end. Produced by musical partner Sunit, the song found its way to fans worldwide starting from BBC Radio 1 airplay (Bobby Friction & Nihal) to BBC 1Xtra, BBC Asian Network, Club Asia and various radio stations worldwide. It was also officially released in India as part of Bobby Friction's "FRICTION" compilation album, as well as Sunit & Raxstar's seminal debut EP "Fulfilling Ambition".
Videos for the songs Keep It Undercover, In Perspective as well as collaborative efforts with fellow Lutonian RKZ (Renegades, Defeat Me) have been playlisted on Brit Asia TV, Channel AKA, Zee Music & B4U Music.
In 2007, UK based indie-rock band 'The Rakes' asked Raxstar to feature on their album "Ten New Messages" a V2 Records release. The song 'Suspicious Eyes' was a multi person narrative of a journey on the London Underground following the 7/7 attacks. Poignant and realistic, Raxstar's verse was pinpointed as a highlight of the song and album and also led to Raxstar performing with the band to an ecstatic sold out crowd at the Brixton Academy.
2008 & 2009 saw Raxstar touring the whole of the UK as well as performing in Cambodia as part of the 'Water Festival' in front of over 10,000 people. He collaborated with a plethora of artists including RKZ, Sir Aah, Raja Wilco, Kan D Man, A.Dot & ADP. He also released the free 11 track mixtape 'Lost Ones' featuring new remixes of songs by Ciara, Boyz II Men, Dizzee Rascal and Yamla Jatt.
2010 has proved to be a memorable year for Raxstar having released 3 music videos, a mixtape, collaborations and also recieving mainstream UK television coverage via Channel 4. The song which kickstarted everything was "Name On The Poster" which was released online via iTunes in May.
The video, directed by S Sid Ahmed of 'Stare Into The Sun', garnered the attention of bosses at Channel 4 soap "Hollyoaks" leading Raxstar to perform the song on the spinoff "Hollyoaks Music Show".
His FREE downloadable 16 track mixtape "Spring Cleaning" was also released shortly after and featured fresh remixes/collaborations with Jagged Edge, Ashanti, Empire Of The Sun, Mr Hudson, Jazmine Sullivan, Sam Khan, Arjun, RKZ, Zaheer and Swami Baracus. The music videos for the singles "Name On The Poster", "Dont Watch Me" & "Fading" have all been playlisted on UK satellite channel Brit Asia TV.
There are big plans in place for 2011, Raxstar has released a free 8 track remix EP entitled "About A Girl" which has been described as "an EP that delivers pure musical talent and raw emotion". He has also collaborated again with music video director S Sid Ahmed to bring his single "Jaaneman" to life. At the time of writing it has received over 100,000 views on Youtube in less than a month.
With an album ("Faith & Patience") releasing in the third quarter of 2011, numerous collaborations and at least 3 more singles/videos to release; this year is looking very promising for the artist affectionately known as RX.