On Friday, November 11 DJ Rekha launched her label Beat Bazaar Music and Rajé Shwari was there to perform. With her dancers and dhol player all lined up, Rajé performed songs new and old at Brooklyn Bowl.
http://youtu.be/VFWFMVcHNJg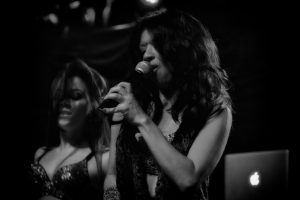 "It was truly an honor and pleasure to support a pioneer like DJ Rekha, I wish her the best with her label Beat Bazaar Music. The crowd was really receptive and enjoyed my performance which was a great feeling because I showcased music from my own label Bollyhood Records. This was truly the highlight for me." Rajé says as she reflects on the evening.
Rajé Shwari has been busy working in the studio on new music and is ready to make her solo debut in 2012. Rajé's debut album I'm Famous in Bollyhood is due out in the first half of next year complete with singles, videos, and exclusive free downloads. Rajé is often recoginzed as the featured vocalist on Timbaland's "Indian Flute" and Jay-Z's "The Bounce" and 2012 is the year for Rajé to take the spotlight.