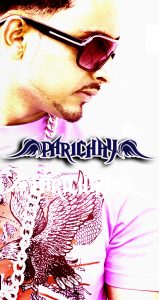 With over 10 years of contributing to the Urban Bollywood music scene as one of the major producers of Desi Urban music in Canada, Parichay has created a sound that is unique to today's generation, combining a touch of Hindi Classical and Pop music with mainstream Hip Hop, RnB, Reggae, House and Dancehall. His latest single 'Tum Habibi' featuring DTP Rapper Joe Louis has already climbed up the charts in the UK. Having peaked at #1 on Sunrise Radio UK & #3 on Buzz Asia charts in London, this track has created quite a buzz in its first few weeks. 'Tum Habibi' has also climbed to # 71 on the iTunes Top 100 in the UK and # 83 in Canada. He performed this single in spectacular fashion to a packed audience at this year's UK Asian Music awards held in London.
Parichay then went on to collaborate with RDB on the House Mix of the title song of the new blockbuster – Yamla Pagla Deewana featuring Bollywood superstars Dharmendra, Sunny Deol and Bobby Deol. He performed this single live at the highly prestigious IIFA Rocks event in Toronto in June this year. Parichay's smooth vocals have quite simply created a magical effect on this club banger track currently playing in clubs and radio all across the world.
His debut album, No Boundaries, released May 2009 by Times Music in the Indian sub-continent stayed on the Top 10 Indi-Pop charts for 12 consecutive weeks peaking at #4. It has revolutionized fusion music appealing to millions around the globe, as was predicted by many known players in the industry. The two Video Singles, 'Deewana Tera (She Makes Me Crazy)' and 'Kasam Se (I Swear)' are currently in rotation on several TV channels and Radio stations worldwide including Canada, India, UK and being aired on global channels B4U Music, Sony Entertainment Television & Zee Music.
As a 'triple-threat' artist, Singer/ Producer/ Songwriter, Parichay's musical journey began at the age of 12, as a winner of the most popular Bollywood music show – 'Antakshari' aired on 'Zee TV'. Ever since then, Parichay has gone onto perform at & headline over 300 live shows and festivals worldwide, including several high-profile events such as the Miss India-Canada Beauty Pageant, desiFEST Toronto/ Vancouver, UK Asian Music Awards and the like. Recently named 'Artist of the Month' on Worldspace Satellite Radio and having been featured & interviewed on India's top Radio Stations 'Mirchi 98.3FM' & 'FEVER 104 FM' as well as the hugely popular Friction show on BBC Radio in the UK, Parichay's 'No Boundaries' entered the charts at India's biggest music store chain, 'Rhythm House' at number 7 as well.
With one of the highest viewed MySpace and YouTube profiles amongst Independent South Asian artists in Canada and with the huge success of the Singles 'Jadoo', 'Deewana Tera', 'Kasam Se' & 'Tum Habibi', which have reached top spots on several charts in the UK & North America such as Sabrang 94.7FM Radio (Calgary), Red FM 93.1 (Vancouver), BBC Radio (UK), Parichay is heading towards having a highly successful 2011, thanks to the love and support of the fans.
'No Boundaries' was released September 10.09 on iTunes worldwide and the response thus far has been incredible. This much-awaited album has lived up to the expectations of the fans and several top music sites such as desihits.com, bhangraholic.com, desi-box.com and simplybhagra.com have credited Parichay for his talent, unique sound and versatility showcased on the record. He has also produced the official Remix of 'Khuda Haafiz' from the Bollywood movie, 'Mittal VS Mittal' and his recent collaboration on a brand new single with Grammy-nominated producer Boi-1Da is one to look out for.
Having featured on RDB's forthcoming album 'Worldwide' as well as on a few soon-to-be-released Bollywood projects, there is no doubt that this collaboration is set to push the envelope and leave a mark in the industry for years to come. Parichay continues to produce records for Asian artists as well as mainstream acts such as the single 'Fly Away for Toronto/ DC rapper, Hennesseyy. All in all, this Canadian desi-urban artist is here to stay and bring the music industry a breath of fresh air with his sophomore album 'All New Everything' out this October.