The world has seen President Obama making speeches at various international conferences. Recently, the American president visited Vietnam for political session, where he was addressing young Vietnamese in Ho Chi Mingh city. During the meeting, a rap artist named Suboi raised her hand to ask Mr. President his views about the importance of arts and culture in nations success. Despite the official environment, Vietnamese rap girl said she has a lot to say.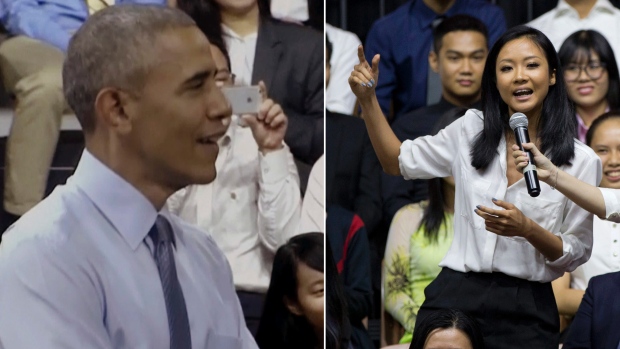 Hearing the urge of a young Vietnamese girl, Obama said "Before I answer the question raised by you, why don't you give a little rap in your mother tongue?. Obama was thrilled to see the excitement of Suboi and he started beat boxing to give her company. On the beats of Barack Obama's beatbox, Suboi rhymed few lines of an impressive verse. Her Vietnamese verse meant " I was simply talking about people who are rich and have a lot of money, living in big houses, but actually are they really happy? Suboi explained, the verse was dedicated to stereotypes. As a young girl, she has always been cited as an Asian rapper, a cute girl". The Vietnamese people think different, they believe rapping is not a task meant for women.
After Suboi made Mr.President stunned with her rap, he answered her questions. Obama talked about the importance of free artistic expressions. He said, "Being honest, sometimes art becomes dangerous and that's the reason why government sometimes get nervous about art and culture. But, one thing is for sure, if you try to suppress the art then you are suppressing your deepest dreams and aspirations of people.
About Hang Lam Trang Anh aka Suboi Vietnam's Female Rapper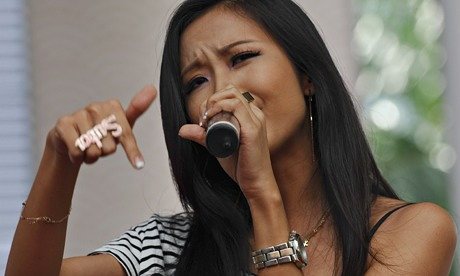 Suboi is claimed as the 1st Vietnamese female rapper to become successful in her homeland. She is considered Vietnam's Queen of Hip Hop. Suboi was born to an ordinary family in Saigon. She is also known as Quiet Bunny for her artistic skills as a rapper, singer, and songwriter. Since her school days, Suboi was a rebellious teenager, who was involved with gangs and hung around on the streets as a tom boy. She was highly influenced by Eminem and started rapping at the age of 15. Her career took a big turn when she was invited to join a nu-metal band covering a Linkin Park's track. Suboi became a mainstream artist after rapping with Ho Ngoc Ha, a popular Vietnamese pop star. Her tracks "My Apology" and "Girls Night Out" became chart topping singles in 2009.
After rapping live in front of the American President, Suboi has become an inspiration for Vietnamese women. Now, she is highly appreciated to make her brave career choice in a repressive state where outspoken singers/rappers fear to deal with the higher authorities with their lyrics. Vietnam has heavy artistic restrictions related to censorship and lyrics. However, with the bold attempt made by Suboi, the other female rappers will influence and come out to fight sexism in the Vietnam music industry.
You can hear Suboi's latest songs on Soundcloud. They are smoking hot!