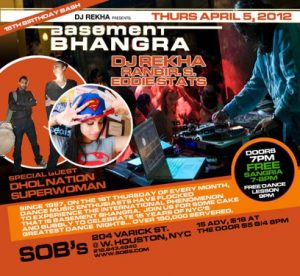 DJ Rekha has hosted her monthly party Basement Bhangra for fifteen years in New York City and to commemorate the birthday, the Big Apple was invited to a big bash. The party took place at SOBs April 5. Rekha was accompanied by Eddie Stats and Ranbir S. at the DJ Booth while Superwoman and Dhol Nation added to the evenings entertainment.
What has kept Basement Bhangra a float for fifteen years? DJ Rekha tells us, "Good music is the foremost [important].  We have a great relationship with venue.  My co-djs, currently and through the years, share a musical point of view with me.  It's also a dance party without pretention.  You can bring anyone and you can dive right in. We keep early admission prices cheap so it's accessible which help attracting new folks."
Ranbir S. said, "It feels great [to be celebrating 15 years]. I can't think of any other party that has been going on this long and has such a fan dedication, it is always the music that is the focal point."
With a word from the deejays, Superwoman was in awe of the evening. Superwoman is a new face on the scene and has now been seen hanging out with Panjabi MC and now DJ Rekha, reflecting on her situation, Rekha says, "Honestly, I feel like sometimes in need to pinch myself and wake up. Even hanging out with Panjabi MC, I have hung out with JK, it is such a blessing and humbling experince. At the end of the day, I get to do what I love to do and for people like that to recognize me, I couldn't be more thankful."
By the end of the night, Jess of Dhol Nation admitted "I'm tired." Jess and Malinder, Dhol Nation duo, kept the crowd engaged and wanting more. After the big performance, the two dholis enjoyed DJ Rekha's throwback set.
Rekha started the party as a space where she could present her favorite Hip-Hop and Bhangra tracks and now it's become part of New York culture.