Machas With Attitude (MWA) is a Rap, Hip-Hop trio from Bangalore and Chennai, India. Formed on June 14, 2008, the group consists of Bigg Nikk, Smokey and Brodha V. MWA takes influences from their various backgrounds, although their songs are primarily in English, they feature lyrics in Hindi, Tamil, Telugu and Malayalam. Their music is flavoured with a blend of emotions like patriotism and aggressiveness with a dash of humour. MWA has impacted not only the Indian Underground Hip Hop scene but also India's various film industries in a massive way and their songs stand testimony to this fact.
Recently MWA has released their all-star collaboration "Indian Flava," which made their first ever performance in a Bollywood film and won awards including 'Best Rap Crew' and 'Best Rap Song (crew)' at Indian Rap Forum's Annual Music Awards;  we have caught up with this crew to ask them about their feelings and their future plans.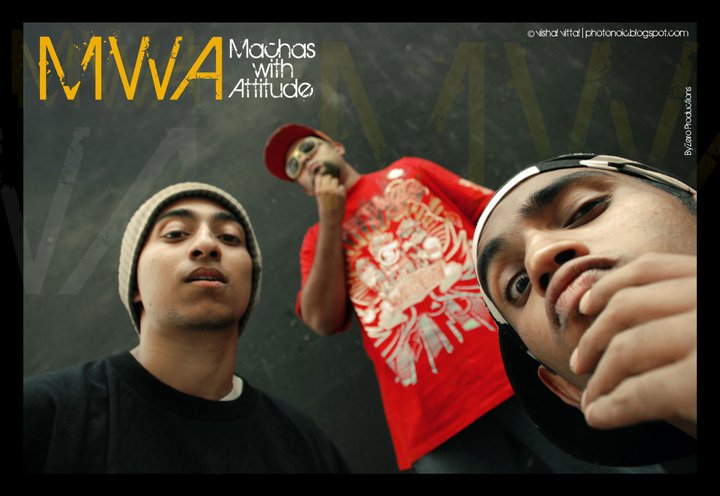 DHH: How are you feeling after getting this award for 'Best Rap Crew – English' and dominating the awards this year? Feeling Special? 
MWA: Yes, Feeling very inspired from all of it. This is exactly what drives us to make new songs. Getting an award is always a beautiful feeling. M.W.A thanks IRF and DHH.com for making it possible. I'm sure if every crew works hard relentlessly and makes an effort and believes in it, They will top the list too.
DHH: How long have you all known each other? How did you meet?
MWA: I knew Brodha V since when we were in school. But we never knew each of us could rap. Me and Bigg nikk met through an Online battling community called Battle Rappers INC and one day Nikk said, "Here's my number call me, I wanna make a dam Hip Hop crew " AND BOOOOM!!! It happens, Brodha V joined us a few months later after dropping a DOPE ass verse on a song and Nikk said "GET HIM IN SMOKE. GET HIM IN!".
DHH: When did you form your band? What inspired you to make music together?
MWA: We formed this band around 4 years ago. Approximately we were not so serious about music and being a band back then but I dont know, lets say we just Inspired each other. What inspires us are BEAUTIFUL chicks! Chicks inspire everybody LMAO!! Well, Our fans are very loyal to us and we love them. We affectionately call them 'MATCHSTICKS' and they are the reason we continue and carry on with our Music.
DHH: You guys have recently annouced that you're working on MWA's Album so can you give us some inside details about like how its going to come out and what can we expect for the album? 
MWA: Any crew should constantly look at being commercial and at the same time spreading a social message. Its very important to keep your roots in India and be proud about it. Thats what this album is gonna be about.
DHH: You last Mega Collab – Indian Flava – Created a huge impact on the underground level. So are you happy with that track and its Reception? Who do you think has the best verse on that track except MWA? 
MWA: Well, it started off with Brodha V bring the Idea to the table. I frankly thought it was tough to do but Nikk gave a thumbs up and we said lets do it. It was initially hard getting the artists together. Worked out well in the end – Ishq and Haji have been supporting us and they readily agreed. When it comes to Fav. verses – we love all the verses the dedication of each artist, Mandeep Sethi, MO, Ram & K.O are beautiful but most of all we loved the underdog – ANKUR. Just Beautiful!
DHH: We know that Nikk is from Chennai while Smokey & Brodha V are from Bangalore so do you guys face any difficulty regarding this? Could you briefly describe the music-making process?
MWA: Usually, One of us makes a Beat then we decide a Topic and drop it to each other. We write and record seperately and Somehow it just gels along. It just does, we cant explain it. A lot of people ask me How we do it so well? But its probably the reason why we are so unique with what we do. Our level of understanding and synchronization are almost perfect. A little secret: Big Nikk can even predict what rhyme I'm gonna drop next so – If in a concert I spit a random verse that even I don't know what I'm gonna say and Both of them have never heard it. But you'll find Nikk dropping overdubs on it or even saying the rhyme when I take a breath pause. LMAO! Its unexplainable!


DHH: What has been your biggest challenge as a band? Have you been able to overcome that challenge? If so, how?
MWA: The biggest challenge in being a band is being together, in accepting creative clashes. Everyone has a different way of looking at a Instrumental and YES we have overcome it. I'm proud to say that – Me and Brodha V are probably the Most Egoistic fucks ever born but we keep everything aside for Each Other. Including our ego and we respect and Love each other just as a brother would love another. So the end of it all its all about understanding and respecting and Being open to ANY critisizm and change that you bandmate might try to bring. You never know – that input might make your song 'SUPER DOPE'.
DHH: Brodha V, your 'Death Punch' was a huge hit and everyone appreciated it. So have you actually predicted that something like this would happen? How many copies did you actually sell till now? 
MWA: "Deathpunch" was my first ever mixtape/album. I had to put in a lot of effort to make it catchy and good. Plus, I really had to experiment with Music Production as well. The hype was building up steadily since the day I had revealed that I would be coming out with a mixtape. The mixtape had to do well because of the hype, and of course because it was my first ever mixtape. I knew for a fact that people would definitely not be disappointed with it. But, after the release of 'Aathma Raama' the response was crazy and unexpected. The hype jus got tripled. And the next release 'When We Party' with Colin convinced the audience to buy the CD without fail. "Deathpunch" sold around 1000+ copies. And I'm happy with the result though.  Now you will have to wait for MWA's debut album. Its gonna be physically and digitally released worldwide. And, believe its gonna be one of the hottest professional albums of all times. We are gonna take Hip Hop music from India to every corner of every piece of land and water on this planet!!
DHH: You're doing a lot of commercial projects Nikk in Tamil Industry so hows your experience over there? What do the Tamil Industry really feel about Rap Music? 
MWA: In the Indian movie Industry the maximum opportunity for rappers comes in the Tamil music Industry. There have been many music directors demanding various things from me. This has made me more versatile and also better as an artist. My experience here has been amazing and i do atleast 3 to 4 movies a month. It feels good.

DHH: Smoke, As you're about to complete your studies then whats next for you? Are you going to do music full time or will keep it aside and continue with your higher studies? 
MWA: I'm the kind of guys who believes that I can do 10 things at once, contrary to the normal belief. I dream to be an IAS officer one day and I'm gonna do it. I dream that I'm gonna be like the person who inspired me ( Eminem ) one day and im gonna do it. I believe in doing what I want irrespective what who believes what if u think u can do it. – Do it! Dont listen to nobody. Be the future u want to be. Probably after 4 years of IAS ( of course a rapper even when i am one ). I'll be a full fledged rapper thats my plan and you're gonna watch me do it.
DHH: Many people tell us that your name is copied from Legendary Gangsta Rap Crew 'NWA' and that you make Hip-Pop kind of tracks so thats actually an insult to those legends. Whats your take on this?
MWA: Well, Hip-Pop is not an Insult to any legend, As a matter of fact Dr.Dre a part of 'NWA' himself is making tracks that are super commercial and are POP. The Truth is that we did copy the name from N.W.A, during that time 3 years ago we named ourselves that and it sort of stuck on. When you've acheived a lot with that name and it would not be possible to change it after you've got considerable fame, we are proud of it never the less.
DHH: Whats your take on Indian Rap Scene? How do you guys see it after 5 or 10 years from here? 
MWA: Hip Hop is never gonna go down. Mohali Brigade is doing it, FBI is doing it, SOS, Thugs Unit in doing it. 2 years back we didnt even have crews. Now we have so many beautifully awesome creative crews Hip Hop is in good hands
DHH: You guys got a chance to work with Bollywood's Biggest Production House – Yash Raj Prodcutions? So how did it happen? What was your very first reaction after completing 'Deaon Deaon'? Any more bollywood projects in upcoming year? 
MWA: Well, it all started with raghu dixit stumbling across our page after one of our fans refered it to him. He said he heard us and he was like 'Get these guys' lol. He has been like a god father to us, Educating us on the what to do and told us he wanted to do a tapang song – a party anthem! The second we recored 'dheaon dheaon' We were like, "Is this gonna move everybody?" But after it actually DROPPED the 3 of us BUMPED the hell outta it for days. My mom sings it to me sometimes – ahahha and yes, more coming! I cant talk about it too much but you can expect BIG names. If u follow us on twitter and our page *HINT*
DHH: Whats your opinion about websites and forum's such as DHH.COM and IRF? Are they of any use? 
MWA: Where are you reading this Interview on? Forums are perfect but u also have to build urself outside forums – remember that. Forums are important but Not ENOUGH. You need to perform – need to meet people need to work it out .

DHH: Any message for your fans?
MWA: My dear MATCHSTICKS – You're the greatest set of fans any band could ask for – WE LOVE U! We will be dropping our album soon. It will be featuring great names, its specially dedicated to you guys. Keep the faith guys. Support Hip Hop. One love!