Mumbai's Finest and The Hangover Squad continue to empower the Desi Hip-Hop movement as they hosted The Mumbai Hip-Hop Eve. The event was dedicated to the underground artists who are not always given the platform to showcase their talents.
Dj Shubham Rachvi and Dj Aaron were the Dj's for the night; they were joined by Dj Sickticious who played an old school set. These guys kept the party going as it all kicked off with a rap battle hosted by Ace. Kav-e, of Black Listed crew, and Poetikjustis, of Minds of Beasts, battled in 3 rounds of competition and the crowd could not decide who the winner was. To bring an end to the rap battles, one more round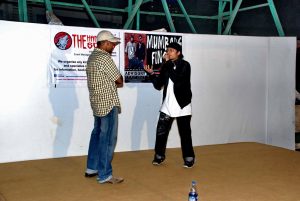 took place and Kav-e was crowned the winner of the battle.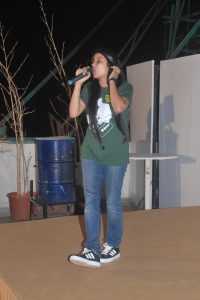 Later in the evening, Femcee Vin rocked the crowd with her catchy old school Hip-Hop tunes. She was followed by Mumbai's youngest and most promising rapper Blaze. Then the rap battles
commenced and Kinga Crimes went up against Def Bucks. Kinga Rhymes won this round of competition.
Saad was next on stage with his performance; he was joined by Kinga Rhymes. K.j, Evidence, Roy c and Poetikjustis then entertained the crowd and did their group, Minds of Beasts, justice.
The stage remained packed with performances before the final rap battle between Kinga Crimes and Kav- e took place. Kav-e won and was offered a free recording session at the underground studios by u.r.l.
The event was a huge success and it was great to see Underground acts have a space to flourish in. It' a Desi Hip-Hop movement and the world is running with it!