Ace and AP have been best frien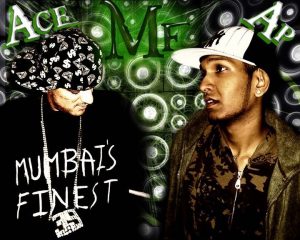 ds from the last 10 years and started focusing on their rap skills a long time ago. When they were doing their thing, most people in Mumbai did not even know about Hip-Hop. Mumbai's Finest knew it was not going to be easy but they had faith and continued creating music.
UMANG 2005, the biggest college festival in India, hosts The War of the Rappers. Ace entered the contest representing himself and AP, but did not make it through to the finals. With continuous hard work and dedication, Ace and AP continued making tracks. Soon emcee Top Dawg joined the crew. The trio was soon featured in the Mumbai Mirror with a page long article and that gave them well deserved recognition, people began paying attention to this act.
It was that time of year and UMANG 2006 was in full swing. Ace entered The War of the Rappers again and this time was the crowd favorite; Ace won 3rd place honors.
Working on their craft, Ace presented his alter ego 39. He and AP came up with the banger "Shake It" and began paving the way to their success. The same year, Ace became the first Indian to share a stage with rapper Chamillinaire which was the moment the name 'Mumbai's Finest' came into play.
By UMANG 2007, Ace was asked to judge the rap competition alongside Ishq Bector and Earl. 2009 was the year J.D started rolling with the crew and has been a consistent player ever since.
Mumbai's Finest now let their music represent them as their journey has been a bit of a struggle.