INCOME (I'm Not Caring Of My Enemies) drops "The Rap Up".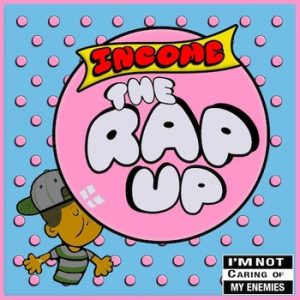 Listening to Income's "The Rap Up" mixtape, you will pause
what you are doing and take a listen. A mixtape  that literally wraps up Hip-Hop and jumps between the genre's entire timeline; with remixes to Talib Kweli to Drake to A Tribe Called Quest to Jay Z, he rides through the Hip-Hop tide over the past two decades.
Income's "old-school" flow relaxes you with some eloquent lyrical word play.  This Desi rapper from Arizona is set to make some waves in the Hip-Hop community with "The Rap Up". Songs like "Income In Arizona" and "Rack City" really showcases his skills as a rapper, and he uses songs like "5 o' clock" to express his thoughts about his relationships. "Real Hip Hop" and "Let 'Em Know" really puts you back into the late 80's and early 90's Hip-Hop feel, making you reminisce about the old school greats such as Big L, ATCQ, Big Pun and Wu Tang Clan. He even remixes the beat used at this year's BET Cypher during the BET Awards – making his version of the "Shady 2.0 Cypher" a must listen!
[youtube id="wCKZHxEjlyA" width="600″ height="350″]
Over all, this is a very promising mixtape showcasing Income's skills. Any Hip-Hop head will appreciate this one so go ahead and download "The Rap Up" and see what Income's all about!