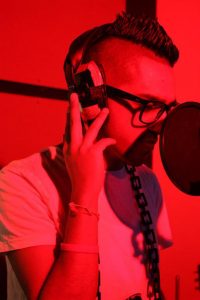 Quirky lyrics and eccentric beats are his tools for self-expression. Political, personal or just plain fun, this young eclectic artist delivers his thoughts over a diverse concoction of Hip-hop beats, Indie-Rock riffs and Electro sounds. Amongst the diversity of his London surroundings, Menis has managed to create his own unique style and stand out.
Menis began writing lyrics over beats as a young teen and something that started off as just a bit of a fun, turned into an obsession. Realising his potential and encouraged by friends, he started performing at local youth clubs, gigs, pirate radio stations and entering and dominating MC battles. His fresh approach, clever use of words and confidence soon gained him recognition on the Urban scene and inevitably his music created a buzz in the Asian scene.
Taking on feedback and responding to demand, Menis combined his Urban and Asian influences and teamed up with producer Nazza-T to create new, outlandish and bold music that they presented on the album – 'Spot the difference' in 2005. The debut track 'Sshh' further propelled him in the music scene, gaining recognition and accolades from industry members such as Bobby Friction and Nihal of BBC Radio 1 and BBC Asian Network. Impressing people with his fresh burst of lyricism, the tongue-and-cheek track went on to ride the airwaves of Galaxy, Kiss FM, BBC 1Xtra and Choice FM as well as many Asian radio stations and TV channels across the UK. In 2006 Menis went on to gain three UK Asian Music Award nominations for Best Single, Best MC and Best Newcomer.
Over the last few years Menis has been busy sharing his talents, featuring on music from producers like Mentor and Kami K. Most comfortable when on stage, Menis has been seen and heard at festivals across the UK, supporting BBC Asian Network mela's and Uni tours as well as performing at the renowned City Showcase alongside established Asian artists like Jay Sean, Rishi Rich and Sona Relle.
Nurturing his talent and striving to learn and build upon his creativity, Menis wears several hats – lyricist, musical director, MC, presenter, DJ and designer. Not only limiting himself to making music, Menis presents a weekly radio show called Brown Boi on Desi Hits, presents video interviews, makes TV appearances and designs clothing.