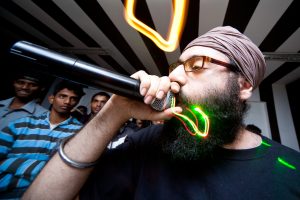 Blame it on the Boogie – weekly party for the street dance community organized by Priya Lisa Gonsalves and Prosenjit Guy Kundu, had Guest Emcee from Los Angeles, Mandeep Sethi representing Zulu Nation and Slumgods , on the mic elevating the atmosphere at the party.  Mandeep showcased his freestyle skills as well at the event representing the dancers at the party with his spontaneous lyrics and rhymes.
Blame It On The Boogie is a FREE entry party dedicated to the spirit of Freestyle Club Dance Culture, a place for dancers from the Street Dance Community to get down and express themselves, brought to you by Syntheskillz.
A great night bringing together elements of street culture!