Brodha V seems very disappointed from the progress of Indian Hip-Hop community. Today he wrote on his Facebook Fan Page about the Indian Hip-Hop Scenario. "The Hip-Hop community in India is very very small and it is being destroyed only from within!", said Brodha V.
He appreciated the efforts by rappers but criticized their move to diss each other in songs. He said a lot about the Indian Hip-Hop scene. This message from Brodha V can inspire somebody to focus only on good work or can make them feel aggrieved and That depends on the perspective of the reader.
Read what Brodha V said here.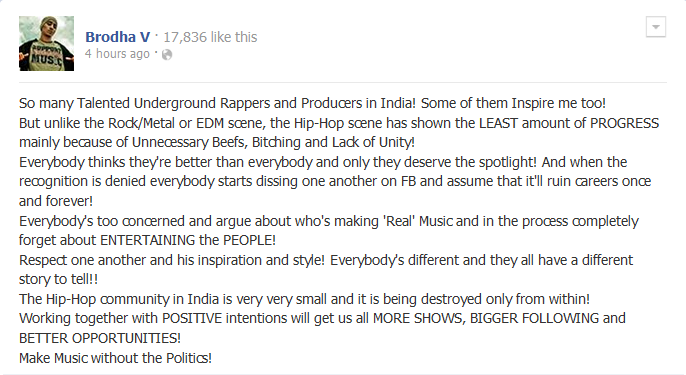 What about Brodha V Fans ?? Are they agree with him ?? Check out some responses to Brodha V on the same Status below.
Now we have to wait and watch whether rapper learn lessons from Brodha V or diss him in songs.