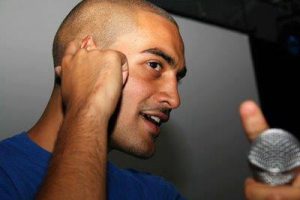 A man who once said, "I will never give up, I will never just quit, I will never give in, I will never submit" has just announced to the world a month before his 26th birthday, via social media platform Facebook that he is stepping away from music. Yes, Lowkey, social and political UK based rapper and activist of English and Iraqi Arab descent, and an inspiration to many people around the globe, posted earlier on Facebook the following statement,
"After many months of contemplation I have decided to step away from music and concentrate on my studies. Maybe at some point I will get back into it again but at this stage I feel I should direct my energy in different, more helpful directions. The ego is a destructive thing and I feel this business and these social networks in particular have a tendency to feed it in an unhealthy way. I will be deactivating this page. Thank you for all those who have supported me over the years. See you on the other side people."
Well here at Desi HipHop, the news has hit us hard. This is not just a loss to UK Hiphop, but a loss to music all around the world.
Lowkey has a way of speaking volumes through his music, bringing a message and delivering it to the people in a way which is unrivalled by none.  Without the support of mainstream media and without a major PR support network, this young Londoner fought his way up through controversy and negativity to a stage where now, his music and his message are enjoyed and shared all around the world.
Who cares that our children are being brought up in a world where some children are starving yet others are clinically obese? Who cares that innocent lives are being slaughtered around the world on a day-by-day basis, while those in power lie on thrones pulling strings? Who cares that we all blindly take in everything fed to us by the mainstream media, willingly accept it and use it, albeit unaware at times, to further destruct the world we live in? You may be sitting there thinking "I do, I do, I do", but Lowkey took this passion further, threw it into music and bravely presented it to the world at a time when others were too afraid. He did something rare: and that is that he came, he inspired and he left hope in the hearts of the people. Not many hiphop artists out there can say that, particularly in the UK, but Lowkey has the right, substance and backing to scream that to the world.
From a series of mixtapes released before he was 18 to his first album Uncensored and now to his latest release Soundtrack to the Struggle, Lowkey has not disappointed his fans and loyal supporters at any stage along the way. Constantly travelling the country and putting on live performances while doing other real things in order to help different situations around the world, Lowkey is an inspiration not just through music but through his human nature. His opinions are so highly valued that within minutes of him putting out this statement, a group was created on Facebook to persuade him to keep updating his supporters with his political views from time to time, even if he is to stop updating them musically. Lowkey will be missed, that's pretty damn clear.
Nobody knows what the real reason is behind him quitting music except Lowkey himself, but we know for him to give up what is truly his passion, it must be pretty major. Let's not contemplate nor debate that now but celebrate his musical and political journey so far, and thank him for allowing us to enjoy his gift.
Lowkey: a truly talented lyricist, rapper and public speaker; a man that spits bars flawlessly, intellectually and articulately; someone who touched hearts, inspired young minds and opened closed eyes across the globe… Lowkey definitely leaves behind him a musical legacy.
We know whatever he decides to do now whether that is to study or not, will be worthwhile for many more than just himself, as he's shown time and time again, he thinks far beyond just himself. Here's hoping he returns to the UK Hiphop scene filling the gap he undeniably leaves, but until then we wish Lowkey all the best in his future endeavours and we thank him for gifting us with the music and the message that has awakened and inspired an elite around the world. We know this isn't the end.
"My fans are amazing, I thank and praise 'em, when I die don't cry, just congratulations, a million more feet will stamp the pavement with plans of change, no exaggeration…" – Million Man March, Soundtrack to the Struggle, Lowkey.