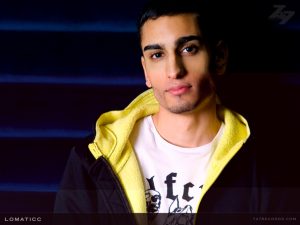 Lomaticc, signed to SPG Music and 747 Records, is a solo-artist, producer and songwriter. Lomaticc is leaving people in awe with his original breathtaking talent. At only 15 years of his age, Lomaticc released his first single "Kine Soni" – an instant classic on the UK music scene, impressing DJs, Radio Hosts, and artists worldwide. The song written and produced by Lomaticc charted in the UK within weeks, and soon was loved by all. With the success of his first single and a growing fan base around Canada and the U.K., Lomaticc was determined to represent the South Asian music industry with his sensational "New Age Bhangra" vibe by producing and appearing on another six independent tracks (some receiving airplay on UK's and Canada's largest South Asian stations).Soon after, Lomaticc was sought after by "Canada's Number One Club DJ'" Baba Kahn to work on a release for the first ever South Asian and English MIX CD compilation entitled "Culture Shock: East meets West". The Album (distributed by SPG and Universal Music Canada) was Lomaticc's first test in the big league's. The result was an overwhelming success with the release of the two groundbreaking singles featured on The Culture Shock Album "Tonight" and "Shiva". The club anthem "Tonight" featured legendary Hype Man Fatman Scoop and Konvict Recording Artist and Hip Hop Superstar Kardinal Offishal, along with Canada's newest Punjabi star Sunny Brown.
Written and co-produced by Lomaticc, "Tonight" once again hit the airwaves running with airplay in Canada on FLOW 93.5FM and several mix shows across the Country. The feedback from South Asian based radio shows worldwide was Incredible with massive play in New York, Chicago and oversea in the U.K. His electro house smash "Shiva" once again co-produced and written by Lomaticc, was an instant classic and has received nothing but praise from DJ's at home and abroad and will be and underground classic with it's hybrid sound of east meets west.Lomaticc is no stranger to the stage. He has also choreographed and preformed dances at prestigious places and events such as Carassauga, SAMA (South Asian Modeling Agency) 3rd Annual Kings and Queens Pageant 2000, CHIN Picnic, Kingswood Theatre, Molson Amphitheatre, and Harbourfront for India's Independence Day Celebration(Panarama India), aired on ATN.
He is currently on a Culture Shock tour with DJ Baba Kahn and Sunny Brown and will make stops in Montreal, Ottawa, London, Vancouver and Calgary. The tour will end in Lomaticc's hometown Toronto, to headline a premier South Asian music festival in Canada called RBC DESIFEST.The future is bright for this young talented star who is set to release first his first single, "Slip and Fall" a sure fire hit that will be featured on his first full length studio album, set to be released mid 2009. The album to be released by SPG Music and Universal Music Canada and will be a mix of R&B and House Anthems with a fusion of South Asian sound. Get ready for Lomaticc, 'cause music has never sounded so HEAVY!