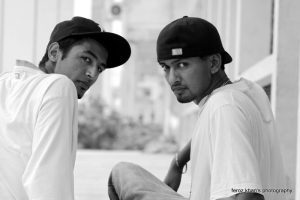 Kru172 is the Rap /Hip Hop Duo from Chandigarh, India. Although Nottie and Lucky, brothers, were already in the Underground Hip-Hop scene, having released several singles seperately including Nottie's "Dil Di Rani" featuring Yung HNI and Lucky's solo named L.U.C.K.Y., the group was officially formed in 2008 with their first smash hit single "Husan Lutera," which achieved success all across Asian Subcontinent and was featured on several mixtapes.
Experimenting on a rather less popular genre called "Desi Reggaeton", which was first made popular on the underground Hip-Hop scene by Nottie's first single "Dil Di Rani" (2007), "Husan Lutera" (2009) just added fuel to the fire and made it widespread getting the attention of masses, as well as other budding underground artists.
The next single, a remix to the DMX song "Get it on The Floor," was a collaboration with 2Shadez, a Rap Duo from Gurgaon. The song became another party anthem for the youngsters. Named "Get it on the floor [Desi Remix]" and produced by Muzical Doctorz, the track got a large amount of airplay including USA Based Hip-Hop radio Nas Jotha FM.
Kru172 artists have been collaborating with several other Undeground MC's from India and Pakistan including a major collaboration project named O.N.E.-The Album, which was an album with Roxy, a rap artist from Pakistan. The album's production are presented by Nottie (Kru172), Daa Parv (Desi Beam) and DJ Jas.
The album features hit singles like "Gal Sun Ja" featuring vocals by Jazz Dhaliwal, which was a remix to the track "Gal Sun" by Jinx and "Put it Up," which was produced by Nottie.
Kru172's first official single "Baby Girl" (2011) was released by Vanjhali Recordz (India), Kiss Records (UK) as well as on iTunes Worldwide.