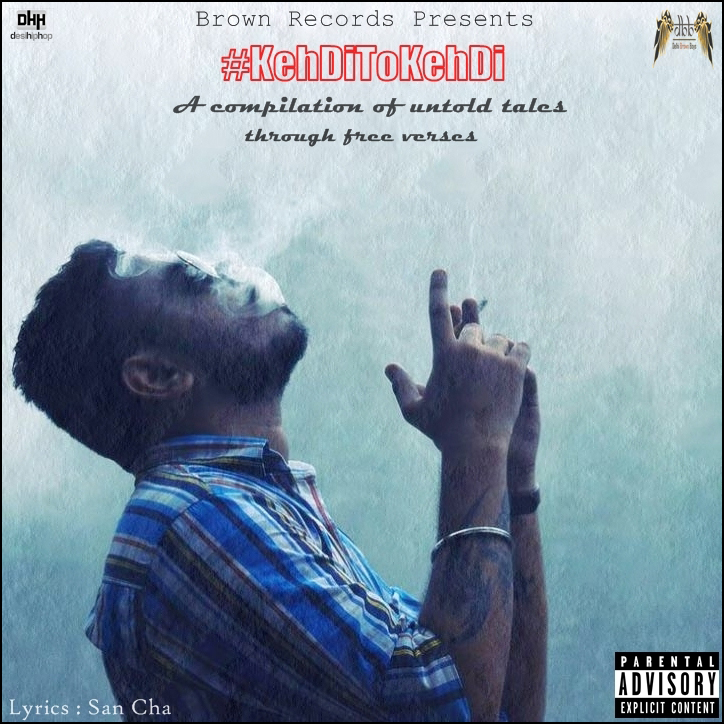 Sankalp Chaturvedi aka San Cha is putting out a compilation of free verses that are based on his experiences and imaginations. He named it #KehDiToKehDi as he felt care free after writing the stuff that was somewhere back in his head. San Cha is popular for his frustrated, emotional and tensed themed tracks which can sometimes boost you up or can let you down at the same time. #KehDiToKehDi was announced in October 2015 with the release of the very first single from the tape, 'Khair' which was released by desihiphop.com.
#KehDiToKehDi is not for the people who are commercial Hip-Hop fans but is a very good joint for the ones who appreciates core Hip-Hop tracks with good lyricism and flows on dark themes. The evil/bad side of humans that they hide from everyone is discussed in this tape. All of the tracks from the tape focuses on some or the other thing that many people can relate to but on the other hand, it also discusses some incidents that a very few people who are close to him can understand.
This whole compilation is of nine tracks with 8 solo tracks and 1 track with Arjun Singh Pal aka Singh Pal from his own crew Delhi Brown Boys. Three singles from the tape are already out and earned him a great response. Every word in this tape is written by him and no ghost writers were used and the whole tape was mixed and mastered by San Cha.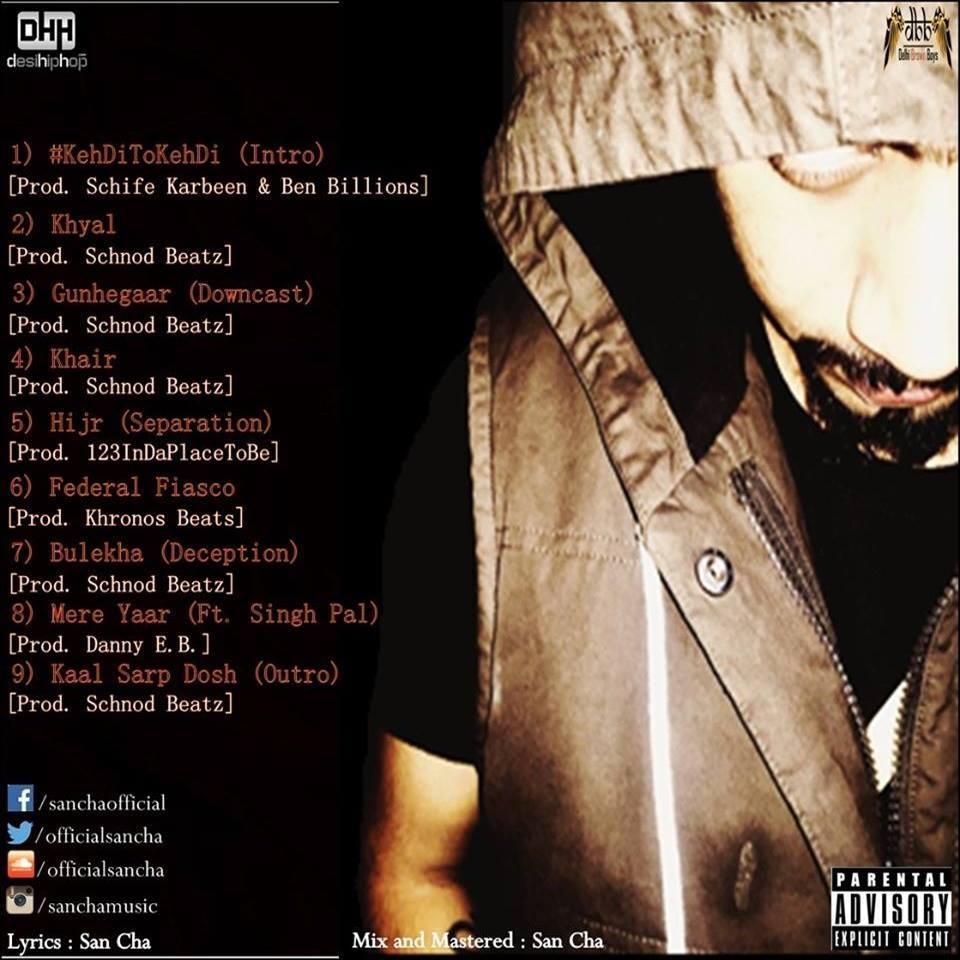 Whole tracklist of the Mixtape is :
1) #KehDiToKehDi (Intro)
2) Khyal
3) Gunhegaar (Downcast)
4) Khair
5) Hijr (Separation)
6) Federal Fiasco
7) Bulekha (Deception)
8) Mere Yaar (Ft. Singh Pal)
9) Kaal Sarp Dosh (Outro)
1) #KehDiToKehDi (Intro) : This track starts with a smooth thought and goes in depth gradually. Words can clearly tell you the contrast of the whole thing. Talks about haters, past lovers and competitive nature of Hip-Hop and gives you a flavour of being aggressive while keeping a soft tone. This track is recorded on the beat of Yo Gotti's single, 'Down in the DM' which was originially produced by Schife Karbeen & Ben Billions.
2) Khyal : This was the second track that came out as single. The idea of writing this track was all about discussing the impact of a thought that it brings to your head. Wrong thought at wrong place can spoil the good from your life. Everyone misses someone or something and that sudden thought at happy times can kill anyone's happiness. Both the verses from the track discusses the thoughts that were not letting him to move on. The Hook from the track comes from the perspective of the thought that is in your head. This track was recorded over Jay Z's 'Open Letter' instrumental which was produced by Swizz Beatz & Timbaland at the first place.
3) Gunhegaar (Downcast) : This track is a re-recorded version of his own track 'Gunhegaar' which came out in 2014 as a single. Gunhegaar, as the word suggests discusses the story of a person who was blamed for everything that he should have done but didn't actually do. This time, the Gunhegaar is San Cha. He is ready to takeall of the blames in this track in a state of frustration and all he is demanding is to not trust on him anymore. If they are considering him as the one to be blamed he doesn't care. Vocal tone of this track and clearly tell you the guilt that he couldn't remove the blames out of his name. Instrumental of this track was produced by Schnod and his beats are available on the web.
4) Khair : First single that announced this tape was 'Khair'. Basically, this track is just a freestyle which is based on 'Me > World' kind of theme. Beat to this track was also produced by Schnod.
5) Hijr (Separation) : This track is based on an imagination that a guy is telling his lover to leave him alone on his own just because it's going to be beneficial for his lover. The guy she loves is going under depression and is just blaming everything on himself. Slowly, towards the end of the track he goes away from the girl and promises her in his mind that he is going to come back in his next life just to live with her again and he dies. He didn't tell her that he is suffering from severe health issues and is going to die. Track fades out after a Urdu Poetry (Sher). Lyrically, it is one of the best tracks from the tape and was recorded over 123InDaPlaceToBe's beat. Vocal tone of this track is highly emotional.
6) Federal Fiasco : This track is based on the failures of the government and the judiciary just because of corruption and also talks about the condition of women in our society. Track was written in the beginning of 2014 but it never came out. Those who appreciates core Hip-Hop can learn several things from this track. Voice tone in this track is aggressive but the tone that lyrics hold is sarcastic. This beat was produced by Khronos.
7) Bulekha (Deception) : Bulekha was the third and the final single from the tape. Bulekha is based on his own love tale that unfortunately ended on a bad note. An aggressive track that continuously talks about the things that people like him can relate to but they can not understand the contrast of the things that happened. Bulekha starts with a Hindi Poetry that San Cha wrote and then fades into the whole verse. Instrumental was produced by Schnod.
8) Mere Yaar (Ft. Singh Pal) : Crew member and mate Singh Pal came to San Cha just to finalize some pending projects and they suddenly planned to collaborate. They got a beat that Danny produced and went in to the feel of the track. All of a sudden the hook came out of the mouth and the whole track took 3 hours to get finalized from the scratch. This track is based on friends and the happy lifestyle that they exercise with an imaginative improvisation to it.
9) Kaal Sarp Dosh (Outro) : Yet another freestyle. This time, it's his journey in the game. What has happened, and why it happened is all discussed in this track. Instrumental was produced by Schnod.
Connect with San Cha on –
Facebook : www.facebook.com/sanchaofficial
Twitter : www.twitter.com/officialsancha
Soundcloud : www.soundcloud.com/officialsancha
Instagram : www.instagram.com/sanchamusic