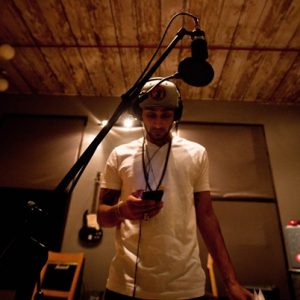 Kaly delves into unknown territory with the release of his most personal EP yet, "She Loves Me".  Coming in with a meticulous four tracks, Kaly takes the listener on a journey through territory most artists would never dar to.  Over the course of the EP, the listener is let into Kaly's mind as he meets the girl of his dreams, works up the courage to ask her out and takes her out one Saturday night.
Based on a real life experience with a very special girl, the EP starts with the jazzy and playful "She".  As Kaly describes the object of his desire, the listener is invited to think of their own loved one over the bouncing horns.  Kaly then follows up with the date itself on "Loves", in which the mysterious girl captures his heart.  "Me" takes a step into Kaly's mind on the day after the date, over an eerie instrumental.  The final act in this real-life drama, "Not", describes what went wrong, which we won't spoil here.  Over a booming old-school beat, Kaly lays this story to rest, and the listener will not be disappointed.
Veering away from punchlines and purposely complicated flows, Kaly chooses to narrate his story in the realest way possible; straight from the heart.  Heavily conceptual and deeply emotional, this EP is a welcome follow-up to Kaly's acclaimed previous efforts "Rebel With A Cause" and "The Fight".
Get the "She Loves Me" EP today and make sure to hit up his facebook page!
Twitter: @kalysay