Songstress Jasmine Sandlas is set to release her new single "Mang Ke," but before she does, she shares a video teaser with media and will then perform her new song for fans before its official release.
"I've always been the go-getter type. I have been doing music for a decade now; it came in the forms of singing on stages, collaborating with different teams, and even recording music with different companies. This single, 'Mang Ke,' signifies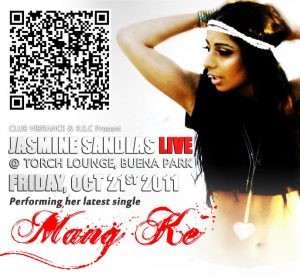 Jasmine Sandlas [In control]. From here on out, I will design my music career myself. This is why I call 'Mang Ke' my first single. In the past, it's been fun and games and now this is work. This is real life". Jasmine Sandlas
Jasmine is working alongside Bohemia and he is excited for the world to hear her new album in December. "The reason I chose to work with Jasmine is because she felt like the perfect female singer to produce for," Bohemia states. "Her raw style of singing Punjabi songs with such ease is something I am a fan of. She not only pushes the boundaries of Punjabi music, she forgets that those boundaries ever existed. If I was gonna work with any female singer, it had to be Jasmine Sandlas. She is the most hard working girl I know. She has a good head on her shoulders and big plans for her future." Jasmine will debut "Mang Ke" at Torch Lounge in Buena Park on October 21.
DesiHipHop.com is a media platform that allows Hip-Hop artists of South Asian descent to showcase their talents and thrive. With a global network of artists and media partners, DesiHipHop.com offers Public Relations, Promotions and Marketing Services – For the Artists, By the Artists.
Follow Jasmine and find our more about her here:
Facebook Fanpage: http://www.facebook.com/JasmineSandlasMusic
Twitter: http://twitter.com/JasmineSandlas
Website: www.jasminesandlas.com