"I see myself at the top, the most talked about emcee all over the country, touring all the states and leaving a mark on every stage I set my foot on"
They spit fire when they rap, full of confidence and here to stay. Shillong based rap duo Khasi Bloodz in their latest video S.K.I.L.L say  "The day your opinions can cash me a cheque, that'll be the day I gives a fuck what you think." Donbok Kharkongor aka D-Bok and his mate Ritik Roy Malngiang aka Big Ri are here to stay. D-Bok who also works as a cook to pay his bills pours all he's got into his rap and the talent is remarkable. DHH brings you a one on one with the boys.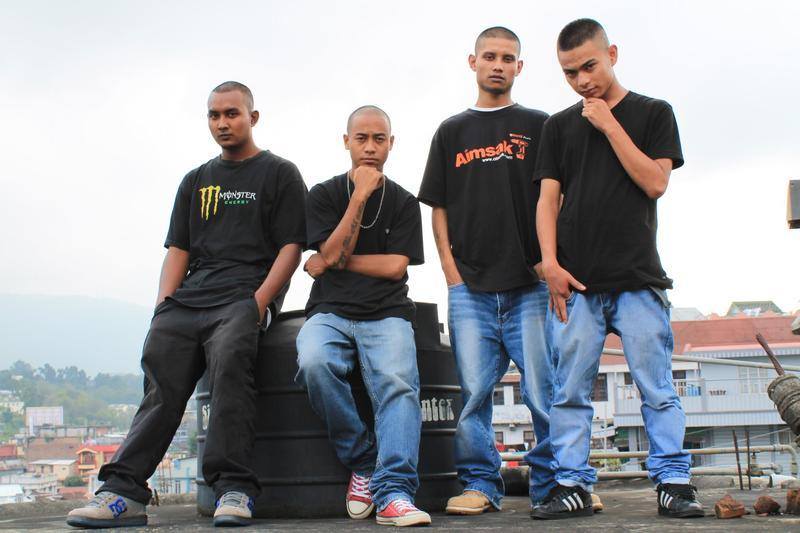 Q1- When and how did hip-hop and rapping become a part of life ?
Big Ri: Hip-hop and I were acquainted when my brother brought home the Marshal Mathers LP and Dr. Dre's Chronic. After that I heard TuPac and Biggie and they still dominate a few of my playlists. I rapped for the first time when I was in ninth grade with my school mates and it's been a part of my life ever since.
D-Bok: As soon as I heard Eminem and TuPac, Hip hop pretty much became a huge part of my life. Some of the lyrics they wrote made such a huge impact and I could relate to almost everything they were talking about. I would rap along listening to their songs and then I started writing lyrics of my own; I started off wack but pretty soon found a voice of my own and I have been rapping ever since.
2- What are the subjects that you like talking about through your art ?

Big Ri: I like reality. But I often find myself conflicted whenever I ponder questions concerning the power of the imagination. So my rap circles around the topic of yin and yang, human creative life, i.e. the working together of imagination and reality.
D-Bok: Rap is the most powerful weapon. Through this artform, I could express anything I felt that needed to be heard in today's troubled and degrading society. I always felt the need to spit the truth however filthy or vulgar my raps might sound but i'll always be real to the fact that I am a poet. I won't compromise who I am as an Emcee; I don't care about the colour of your skin or where you come from. All I care about is the musical bars, metaphors and punchlines that goes into the song.
3- How did your latest video Skill come about ?
Big Ri: D-Bok signed up for a competition and he brought the beat. He laced it and told me that he wanted me do something with the third verse. We didn't win the competition but a year later Bok decided that we need to do a video for it.
D-Bok: The song entitled Skill was actually written for a competition we entered a year ago. It was hosted by Dj Premier and Royce Da 5'9. We didn't win but later decided to make a video out of it because we thought the song was pretty dope and would probably stand out from all the shit that's coming out of India.
4- Can you tell us more about Khasi Bloodz and what the name means to you ?
Big Ri: Khasi Bloodz is a brotherhood, it is a family. But to me it means people who belong to a community known as the khasis. It represents the blood running in the veins of those indigenous peoples who belongs to the Hynniew Trep Hynniew Skum clan.
D-Bok: Khasi bloodz is more than a name, it's family, it's where I belong; it is my identity. It represents who I am; a khasi from these forgotten hills of the North East. Being neglected from mainland India I feel it's my job to put my city on the map and take "khasi" wherever I go.
5- Where do you see yourself 5 years down the line ?
Big Ri: I see myself as the most respected, most wealthy philanthropist who eradicates hunger or dead
D-Bok: I see myself at the top; the most talked about emcee all over the country, touring all the states and leaving a mark on every stage I set my foot on.