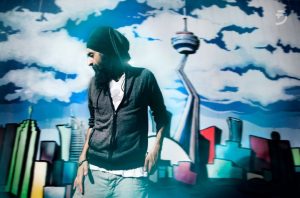 Humble the Poet has taken his music to his fan base in India and now clips of his performances are being shared on YouTube and it looks like he had as good a time as his audiences.
Humble performed at the NH7 Weekender in Pune. His excitement started on Facebook with the first tweet athe airport saying "Pune, #nh7weekender here we come!" Leading up to the event Humble the Poet was impressed with his hotel and the city as he tweeted "Pune is pretty dope."
The evening of November 18 rolled around, the stage was set, the crowds piled in and Humble the Poet said "I've never rocked a crowd this large and. Enthusiastic in my life.. Thank You Pune #NH7." The party continued on the 19th as Humble says "Highly suggest yall come to Pepsi dub station tonight 8 #NH7Weekender ;)"
Enjoy Humble the Poet's performance in Pune alongside Midival Punditz.