She has been named by GQ as the Indian rapper to have on your playlist, this was part of a story written about the global hip-hop diaspora. Horsepowar aka Jasleen Powar who hails from Richmond has always been inclined towards things artistic. As a sixth grader, not only was she writing poetry but listening to some legendary hip hop artists.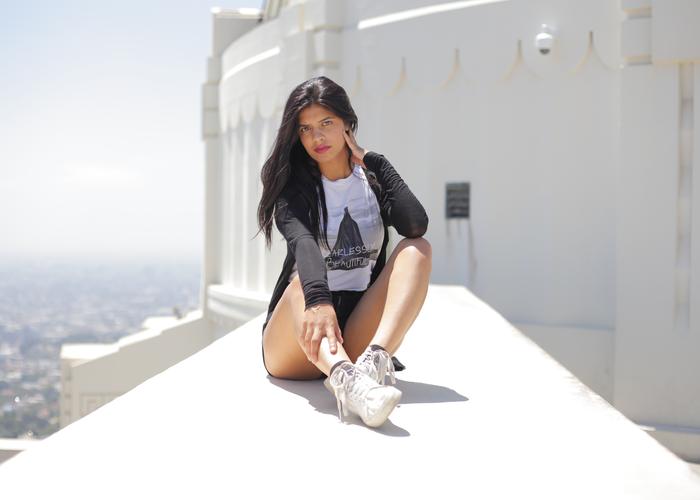 Torn between her Indian heritage and cultural values and her Canadian upbringing, the little girl found her space in her music. She found home in the local training ground of Commercial Drive's Café Deix Soleils Monday night spoken-word open mic night. She got to be weird and from here she grew into a confident poet and developed her own style. Hustling the music scene and creating her trademark style with videos such as Queen and Hi Everybody, Horsepowar who is a fresh graduate, has her eyes keenly focused on music as her life long journey. Navigating through resources that she already has, this rapper uses her dad's garden to shoot Queen and cruises in her Fiat with her cousin driving and her home girls as extras.
In this rap world where the balance tips to the looks category rather than actual talent, the girl is already well-versed with disheartening comments on her videos, the industry's male chauvinistic attitude is as strong and gets under her skin but doesn't get in her way. This has however made her want to work with as many women artists as she can, particularly women of colour. Horsepowar's projection of her image, her solid lyrics and her stance against stereotypes are all driving her in the right direction. The artist performed at the City Of Bhangra Festival recently where all her latest musical offerings were showcased. Jasleen Powar aka Horsepowar has got the gumption, the right attitude and the thick skin needed to survive this reckless industry.