As we reported you yesterday the Billion Dollar star Yo Yo Honey Singh, who's been giving hit songs since the day he entered Bollywood, was found sitting Tate-a-Tete on India's Biggest Hindi News Channel Aaj Tak. Honey Singh Performed some of his hit numbers on the stage such as Brown Rang, Lungi Dance and Party All Night. He wasn't there to perform his songs, he shared his ideologies, he shared his views on other artists and the way he transform his observation into his songs.
Honey Singh even answered some questions regarding his controversial songs. Honey Performed Blue Eyes too. If you are a Bona fide fan of Yo Yo Honey Singh so do not miss this video.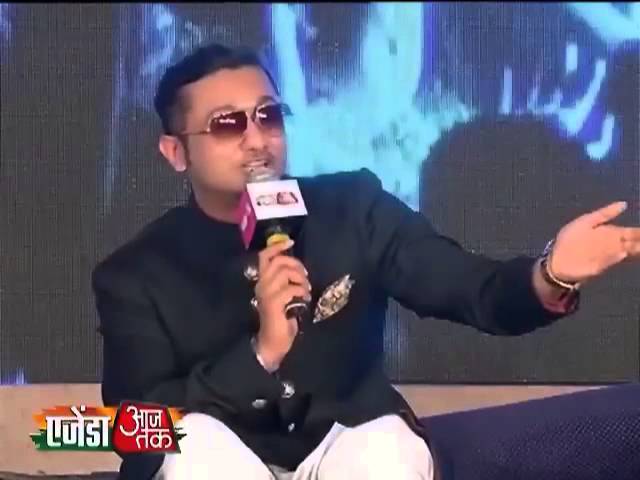 [youtube id="sAUTvNr1lTg" width="600″ height="350″]
Follow the Link: http://aajtak.intoday.in/video/raper-honey-singh-sing-rape-rock-songs-at-agenda-aajtak-2013–1-748817.html
Yo Yo Honey Singh,who is continuously making headlines from Being paid INR 70 lacs for a single song to going International with stars like Rihanna, Chris Brown and Jennifer Lopez.
Recently Honey Singh was seen on India's leading News Channel Zee News with Channel's Editor Sudhir Chawdhary for a Long One Hour Interview, which was dedicated to Honey Singh and his Stardom.
[youtube id="7gDLZCr6Uns" width="600″ height="350″]
Last month Honey Singh Released Blue Eyes on Youtube and broke all the previous records of YouTube views for his videos. Blue Eyes crossed 1 crore views in few days. Now the number stands at 12,642,980 and still growing.
Yesterday another news appeared in which Honey Singh's Two Bollywood Songs were declared Most Searched Songs of The Year by Microsoft's Search Engine Bing.
Agenda Ajj Tak is a show comprising bollywood stars, Politicians from Indian and Pakistan, Comedians, Singers and Social Workers and will debate, discuss and ideate with the newsmakers of the country.
Shahrukh Khan, Amir Khan, Arshad Warsi and Priyanka Chopra were on the show.