Guru, Pardhaan and SETI X kill the TeamBackPack cypher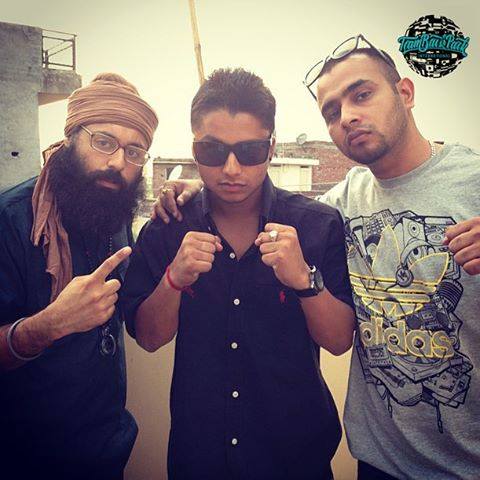 TeamBackPack is known for hosting cyphers and inviting the illest rappers from world over, regardless if you are signed or Independent. There only criteria seems to be that you should be able to deliver bars when needed. They have had rappers like Joel Ortiz (Shady Records), Jarren Benton (Funk Volume), Krizz Kaliko (Strange Music) to come in front of the mike and rip to shreds.
It is absolutlely delightful to see brothers from "Desi Beam" being featured on their latest cypher being hosted by SETI-X who has himself been a part of many TeamBackPack cyphers. Guru and Pardhaan dropped corrosive verses and proved yet again why they are so followed in the Northside and were able to get Bohemia's attention.
Guru from Desi Beam has had his share of hits in the Punjabi Hip Hop scene and is a mentor to many people. DesiHipHop.com was able to catch up with Guru to see what was his experience like during the TeamBackPack cypher and what is the unit, Desi Beam upto.
Here is how it went :
Q1. What has Desi Beam been upto ?
A. Interesting Question!! Well Desi beam is up to nothing but making music now. I am not going to reveal anything but yes, good things take time. Although we were out of the scene for a long period but we are coming back gradually coming .
Q2. How was your experience while making the team back cypher ?
A. Hmm.. It was really a very good experience. We knew Seti X as he has been making some dope music for a long time and we were fortunate enough to eventually do a track together named "Zindagi". It was during that time when we got an opportunity to do a TeamBackPack cypher. In the video you will see a 100% live performance. It was really an honor for me to work with Seti X and Pardhaan on the Team BackPack cypher, where many well known international rappers have performed.
Q3. Considering you as the pioneers of hip-hop in Chandigarh, what do think about the current scene ?
A. Hahaha!! I will not call myself a pioneer but its been seven to eight years since I started this. the current Scene is good. I see things are becoming good but it seems that we are lacking stability and consistency. I see many upcoming rappers from Chandigarh, Mohali and North India and they are really good. They are holding the scene down and I appreciate what they do.
Q4. Drop some information about your upcoming projects ?
A. Ah!! Upcoming Projects? Well there are many. Everyone from Desi Beam has started working on making new tracks and completing pending tracks which were stuck since long.
Q5. Any message for your fans and followers ?
A. Thanks for holding us down and we appreciate all your support. There is nothing more appreciable than an audience loving you. They boast our confidence which helps us in makeing more music.