The Bohemians have been going absolutely bonkers since they heard about him dropping his next album, 'Skull and Bones'. He mentioned before that this will have no features and will be his solo body of work. On that note however Bohemia has still kept himself open to collaborations and 'Gang Bang Operation' helps in cementing his claims, it features Gitta Bains, Deep Jandu and Doughboi Fiji. There were initially rumors that this star studded collaboration was going to be part of the KDM Mixtape but it seems like an independent release.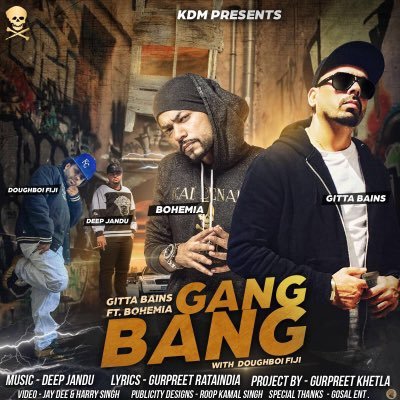 The track opens up with Bohemia dropping a verse about how being in the USA has not affected any of his operations taking place in India. He puts down bars about how his grind is hated by others but has not affected his money, music, clique and movements around the world. Even in the video, the KDM crew is backing up the anchor and the creator of Punjabi Rap like they always have. An entire black on black crew looks supremely dope.
The hook has got the Punjabi folk sensation Gitta Bains. The chorus compares their movements in the country being similar to that of Gang Bangers and anyone trying to be an obstruction shall be eradicated. The hook follows the theme of boasting and braggadocio and as depicted in Bohemia's verse. Gitta Bains and Bohemia have collaborated on previous projects such as 'Talli' and 'Fire' which have been super hits in Punjab and have received several plays on Punjabi radio channels as well as music channels on T.V.
This was the first time I heard Doughboi Fiji on track and his role was very similar to that of Tony Yayo's in G-Unit which is to hype up the track. He drops catchy but at times cheesy ad libs to bring out the best in chorus and does so but not for more than a moment or two. Around 10 years ago every Punjabi song would have someone spitting random ad libs in every chorus and they made Doughboi Fiji do exactly that.
The signature sound of Kali Denali clique is always a West Coast G-funk based and this right here is no different. A groovy bass line along with the trademark G-funk synth accompanied with the ear smacking drum kit make this a very flavoursome instrumental.
The video for 'Gang Bang Operation' has a very underground feeling to it and it is very different from the usual Bling videos from KDM. The video is simple but effective and shows the entire crew just hanging out and doing their thing.