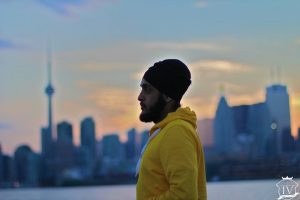 Fateh, formally known as Young Fateh, is a California native who currently resides in Toronto. Despite his hometown, Fateh has been welcomed in Toronto and is currently one of the leading Desi acts within the city!
Reflecting on when he was first introduced to Hip-Hop, Fateh tells DesiHipHop.com "I first discovered Hip-Hop from a group of older kids that used to 
live in my neighborhood. I was in 3rd or 4th grade at the time. One of the first artists I heard of was Tupac, then DMX. As I got older, my knowledge and interest in Hip-Hop and music in general started to grow." And as they say, the rest is history.
In his career this far, Fateh has independently released 3 mixtapes: California State of Mind (2009)
- One Verse Curse (2010)
- Mr Wall Street (2011).
With new music constantly, Fateh accredits his inspiration to all forms of music, life experiences, and Hip-Hop through all decades. When Fateh has something on his mind he does not necessarily want to discuss, he applies the energy into a instrumentals and expresses his emotions through the medium he knows best, music.
With no plans on slowing down, Fateh is working on his EP album titled The Reform slated for a summer 2012 release. On the collaboration front, Fateh is lending his skills to slew of other projects.
B21 have worked with Fateh on their comeback album 1-2-B. 
 Nirmal Sidhu and his son Nav have reached out to Fateh for the Punjabi film Pure Punjabi.
Not stopping there, Fateh reveals to DesiHipHop.com, "I have a feature on Madden Maddi's single and I am working alongside Dr. Zeus, but I can't discuss it just yet."
With a solid foundation and fanbase, Fateh's music future looks bright.