Along with the website revamp, we've also decided to expand our editorial and feature new and exciting young talent from across the South Asian independent music scene. This series, while inspired by our love for all things hip-hop, will focus on upcoming artists who ply their trade in the underground music industry. The likes of Flying Lotus, Ta-Ku, Knxwledge and Esta are some of the most exciting producers in the world today – becoming mainstays of the hip-hop industry and gradually changing the aural map of the contemporary pop & electronic music scene along the way. We firmly believe that there's a lot of similar talent slowly popping up across the South Asian region, and with this series, we're going to try and give them the coverage they deserve.
Sid Vashi is often caught shuffling between two disciplines. On the one hand, he's an aspiring medical student who's on the brink of embarking on a path that most Indian parents would, and do, give an arm and a leg for. On the other hand, he's a part of a group of multi-talented Indian producers that are pushing boundaries – both at home and abroad. In 2014, with the release of his enthralling debut album Motherland Tourism, Vashi showed incredible guile in crafting a release that brought together elements of Bollywood, hip-hop and R&B.
Last year, Vashi resurfaced after spending months living in relative obscurity, and dropped one of our favourite bootlegs of all time – a scattered, sparse reimagination of Young Thug's Daniel Glover. Since then, he's been releasing bits and pieces of music that showcase an evolving sonic aesthetic, one that he promises to expand upon in his upcoming sophomore release. Staylo, his last single, frequently reminds you of the aural contrast perfected by Stones Throw producer Knwxledge. We caught up with the enigmatic producer and spoke to him the album, his influences and the role hip-hop has played in shaping his sound.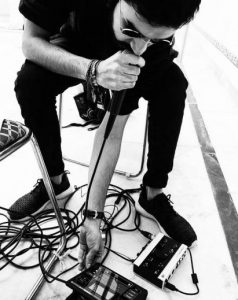 📷 @tashasumant
DHH: What was your early life like? Where did you grow up?
Sid Vashi: I grew up in Detroit, Michigan. I lived in the suburbs, which was cool because it was pretty diverse. I used to live in a house that lay between a Palestinian family on one side and a Jewish family on the other. They didn't really get along, but that was more of a personality thing.
DHH: What's the first album that you remember listening to? What kind of music did you grow up with?
Sid Vashi: The first album that I remember listening to is A.R. Rahman's Bombay. However, I moved through phases really quick. By the time I was 10 I had explored everything from N'SYNC to Fleetwood Mac to Tupac. I've been surrounded by an incredibly diverse set people who've been willing to share their music with me throughout my life, which I think has helped me understand, and move beyond the concept of genre.
DHH: When did you start producing music / playing with bands?
Sid Vashi: I started playing jazz when I was 11 because my school had one of the only middle school jazz programs in the country. It was great! I learnt a lot of important stuff really early on. After that, I started playing in punk and experimental bands and started getting into the recording side of things. I didn't really become a 'producer' until I moved to India and started programming my drums instead of recording them.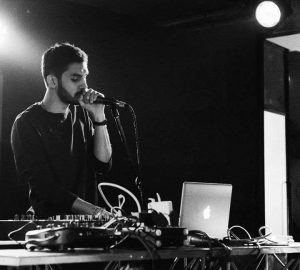 📷 Udayshanker Acharya
DHH: When did you first get into hip-hop? Which artists / producers influence you?
Sid Vashi: A lot of Rahman's 90's stuff drew deeply from hip-hop, especially albums like Roja, so I think that was my first introduction to production techniques like breakbeats and sampling. I got most of my early hip-hop exposure through watching TV channels I wasn't supposed to. I loved 2pac's sense of melody and I thought Eminem was just hilarious, but I didn't really get deep into it until I was introduced to Kanye West and Outkast. With that being said, I'm more interested in the trajectory of hip-hop rather than individual artists. No other genre (except maybe jazz) has expanded so rapidly into so many directions. I'm inspired by albums that changed the landscape of the genre. Also, some of the live shows also left an impact. The Yeezus tour was incredible because of it's size and spectacle.
DHH: How much influence has hip-hop had on your music?
Sid Vashi: The biggest things that I take from hip-hop are sampling techniques and an aspirationally black sense of groove. Hip-hop was relatable to a lot of people because it re-contextualized sounds that they already knew. I've been trying to do the same with my music, but people are super uptight about sampling nowadays, so I've been exploring other ideas. I also really like the aesthetic of auto-tune that's become pretty popular in the hip-hop circuit. I think it the conveys helplessness of living in an increasingly technocratic society really well.
DHH: What's been the most influential hip-hop record that's influenced your productions?
Sid Vashi: That's a tough one. Sonically, records like Things Fall Apart by The Roots and J Dilla's later cuts are so deep. Kanye's Yeezus is incredibly cohesive. Also Hodgy Beats' Untitled EP is probably one of the most solid 40 minutes of hip-hop that's been released in past decade.
DHH: What's the production process been like for your upcoming album? Any particular narratives / themes you're exploring?
Sid Vashi:  It's been pretty manic. I went in making an album built around samples and then found out I couldn't use any of them and still put it up on all the platforms. So I went back to basics, synths and loops and started focusing on things like melody and lyrics. I'm still probably gonna put out the sample stuff as bootlegs, but this new album should be interesting.
Connect with Sid Vashi