"Artists are pivotal in building a better nation as they have the ability to channel the voice of the society through their art and contribute heavily in propagating the movement of people."
Freedom of expression has been one of the most important facets of democracy and when artists use it to express their disappointment and frustration at where the world is going, it makes people pay attention because that's the purest, non-violent and the most sincere form retaliation.
Rapper Shaikhspeare through his newly minted video Inquilab Zindabad does just that. Desi Hip Hop caught up with the artist to chat more about his latest work.

Q1. You address many ills that our current government embodies. What was that one specific moment that inspired you to write the song ?
Yes, I addressed a number of ills that our current government embodies but the root causes (casteism,communalism and fascism) that led to these ills have been prevalent in our nation since independence regardless of whichever government came into ruling it. It's just that ever since BJP acquired power in 2014 , the atrocities towards minorities, rationalists and intellectuals have evidently increased in order to impose the Hindutva agenda.
Talking of inspiration for writing this song, the specific moment that made me up pick up a pen and write this song came amidst incidents that occurred back to back in the recent times including the Dadri lynching by self proclaimed cow vigilantes, killing of rationalists Kalburgi and Pansare, institutional murder of Rohit Vemula, oppression of students of JNU etc. which depict failure of the ruling government to maintain peace, communal harmony, law and order. Being a part of protests organised by activists and drawing attention from them along with having a sense of responsibility as an artist to reflect the times we live in, shaped this song.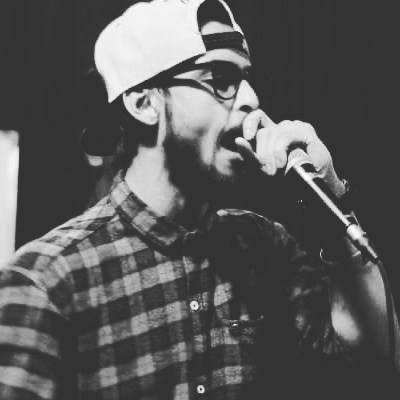 Q2. How did your journey into music begin ?
The journey started back in 2008 and it has been a bumpy ride since then (Haha). I started with writing silly rhymes and trying to rap like mainstream rap artists I listened to back then, such as Eminem, 50 Cent and Snoop Dogg. In hindsight, I just laugh reminiscing about how I started, but it doesn't make me cringe as it's a part of growing as an artist or a person. I guess we all evolve with time and age.
Q3. How do you think rap as a medium can bring about change in the society and how important are artists to building a better living nation ?
I strongly believe that not just rap but every artform can be a medium to bring change in the society. Rap, painting or poetry can influence the thinking process of individuals and this can be used as medium to create awareness. Rap, specifically attracts the youth and thus has more caliber. This quote by tupac speaks for conscious artists – I am not saying I am gonna change the world, but I guarantee I will spark the brain that will change the world. "Artists are pivotal in building a better nation as they have the ability to channel the voice of the society through their art and contribute heavily in propagating the movement of people." Shaikhspeare
Music as a medium has been an integral part of labor movement, civil rights movement, feminist movement , anti-war and anti- slavery movement worldwide with international artists such as Gil Scott-Heron, Nina Simone, The Last Poets etc. consolidating the movements with their music and poetry. India has its own share of protest folk artists. In India, protest artists such as Kabir Kala Manch for example have been targeted time and again for speaking the truth and for criticizing the state and central government body.
Q4. Name a few rappers who according to you have brought about change to the society that we live in ?
Artists such as Public Enemy , Dead Prez, Rage Against The Machine, Mos Def; underground artists such as Immortal Technique, Akala and Lowkey; and mainstream artists like J Cole and Kendrick Lamar to name a few. The Indian socio political artists who have done their share of bringing change in the society according to me would be Ashwini Mishra (A-list), MC Kash, whose music has connects the voice of the Kashmiri people to the masses.Other artists include Naezy, Divine, Sofia Ashraf , Motorcycle Shayaries, Dee MC etc.
Q5. Would you like to share any special moments from the shoot and making of this song and video ?
There were so many special moments but I think the best was working with the kids who are associated with the hip hop collective called Slumgods. The video team comprising of fellow artist Anmol Gawand, videographer Nikhil Vaiude and I were surprised by the the way these kids enacted in the video. There was a kid named Shiva who generously and voluntarily wore a muslim skullcap and played the role of a Muslim kid in the video. That was pretty special to me. They were spontaneous and effortless and I enjoyed making this video with them.
Q6. Did the kids in the video have any questions for you regarding the video ?
Yes. Kids and their questions are unending as they have the most curious mind. They wanted to know all about the references made in the song. I remember one kid asking me "Is Modi a good or a bad person?" and all I could do is smile at him as I did not want to impose my views about a person on a kid. I think he can decide for himself when he comes of age and I feel this music video will certainly help him in figuring out the answer to some extent.