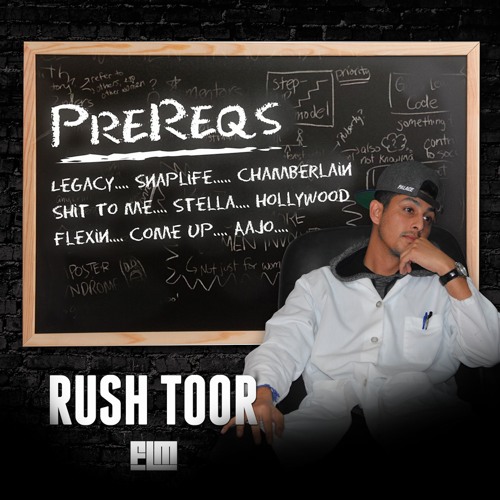 Hailing from Malaysia and living in San Francisco Bay Area, USA – Rush Toor drops his debut tape "PreReqs" and leaves his mark. The tape is rich in content and has a perfect combination of new school as well as old school influences. There is an assortment of topics which Rush Toor has tried to cater to and has justified a huge majority of them. His work is a dedicated display of his grind, struggle, trials and triumphs.
PreReqs is a mixtape which as the name suggests is just a warm and a check list of emotions, expressions and aspirations before an album. Rush Toor is very clear of his objective.
I had a very detailed conversation with him regarding his new mixtape, his future plans and his journey thus far. Have a read.
Q1. What has Rush toor been upto ?
A1. I've just been busy with music. I've honstly been tryna find myself within my music and trying to be more creative with my style and word play. I'm a part of a label called FrontLineMusic which is based out of Vancouver which also has artist Dave Bawa on it. So they have me busy working on multiple projects as well as projects that include BEG involving Guru Lahori, Mohan Singh and Vivek Rajan!
Q2. What is PreReqs all about ?
A2. PreReqs is pretty much exactly how it sounds. It's all the ideas and emotions I had built up inside which I needed to express. Things I needed to get out of the way in order to really openly start working on my album. So in a sense PreReqs are the prerequisites I needed to get through in order to further myself in my music, and to my listeners it was a way for them to understand my basics and understand who I am as an artist. I want people to listen to my music and realize that they have to replay it in order to fully understand my message and my lyrics
Q3. What was your drive and motivation for making PreReqs ?
A3.  My drive for PreReqs was that I've been making music for so long and never really had a chance to put together a mixtape or EP which showcased my work and my vision. I always had singles and I was always featured on other artist work. So my main M.O. was to bring my music to my listeners in a more collective manner, to let them hear me for more than just 16 bars and really put my heart into what I was doing!
Q4. Tell us a little about the producers working on preReqs ?
A4. When I started working on PreReqs I wanted to make sure that each track was different and had an unique sound to it. So I reached out to many producers off of sites like soundcloud and youtube until I liked what I heard. So most of these producers I had never met in my life, only off of social media. So it was great connecting with them and creating the sounds I wanted. I did work with a producer who is also a close friend of mine, Harj Nagra. He produced the track called "Shit to me" off of PreReqs. We went back n forth on the concept before we had it down and I flew to his studio in Canada to record the track which was a lot of fun to make!
Q5. What do you think about the state of desi hip-hop as of now ?
A5. I think Desi Hip Hop is definitely headed in the right direction. Thanks to social media it is a lot easier for new artist to be heard and discovered. The group I'm with called BEG is also very much a part of the Desi HipHop Culture. Artist like Mohan Singh and Guru Lahori are really pushing the envolope of what music should be sounding like and it's amazing to be able to work with these guys day in n day out! I was just in Bombay a week back and was introduced to an artist called Divine who is doing big things out there! So definitely the Desi Hip Hop scene is flourishing and a lot more people are becoming aware of all the amazing talent we have around the world. So I'm excited to see where all the new sounds will take us!
Q6. Any message to your fans or followers ?
A6. To my all my fans out there I just want to extend my deepest appreciation to each and every one of you! I know I'm still up and coming but the Love I've been receiving is phenomenal! I still have a lot more to share and its because of the fans I have that I am able to push out more music and expand my horizons. Honestly I'm a fan of my fans so its all respect you feel me!