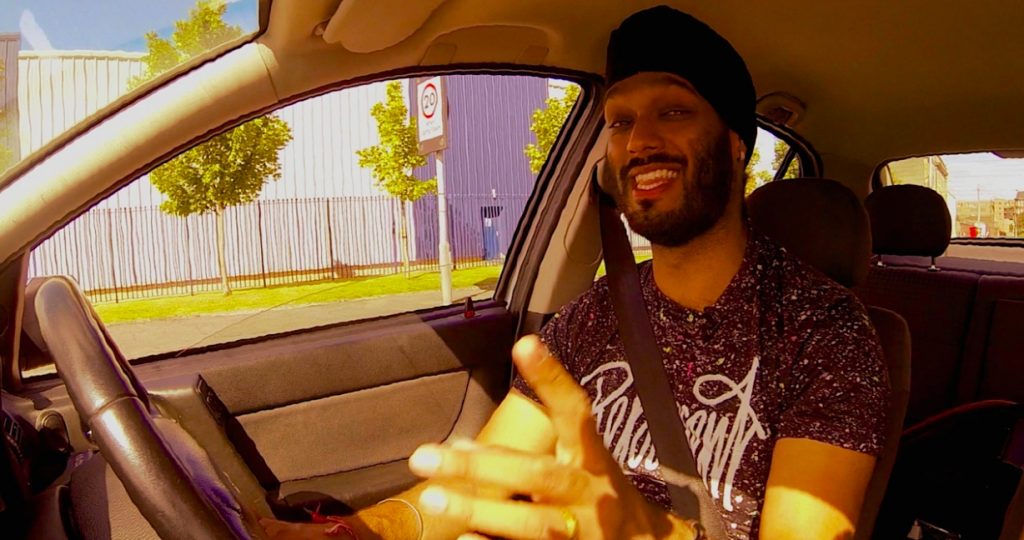 In this new series of interviews, Desi Hip Hop interview emcees of South Asian origin from around the world. This week I had a chat with Bigg Taj, the Scottish-born emcee with Indian heritage who's a multiple time UK Beatboxing Championship runner-up.
Over the past decade he's featured on BBC radio, collaborated with big UK hip hop names and supported everyone from Immortal Technique to Grandmaster Flash.
Taj is one of those rare artists that can do everything: beatboxing, simultaneously beatboxing and singing, simultaneously beatboxing and rapping, and everything in between.
His production choices are also frequently dope and creative. His recent mixtape 'Verses 2', a collaboration with English rapper Spee Six Nine, featured Indian and Bollywood influenced beats and diverse instrumentation.
His new solo project, 'Superstar Sardar', is his most fearless work yet, challenging media stereotypes, widespread corruption and issues ranging from race to class. It's a challenging EP that draws from experiences and influences in both India and Scotland.
Q1: First of all, could you introduce yourself to Desi Hip Hop readers and what you do?
I'm Bigg Taj, a beatboxer from Glasgow. I also delve a bit into rapping, singing and youth work! I've been in the game for over a decade now.
Q2: You're obviously a very skilled and celebrated beat boxer – how did you first get into it and what tips would you have for people that want to try it themselves?
As a youngster I was always making sounds but I wasn't really imitating anything properly at that time. It wasn't until 15 or 16 years old that I heard Rahzel doing his famously imitated routine 'If Your Mother Only Knew'. When I heard him singing and beatboxing at the same time it blew my mind!
I knew I could do some of the sounds he was doing so I just kept practicing and discovering more beatboxers, like Scratch from The Roots crew. This is where everything changed for me; I moulded my style around Scratch's more hip-hop-oriented style. The legendary Killa Kela was also an influence and someone who given me tips supported me through the years.
My tips for new beatboxers? Be original – there are too many sound-alikes out there who just make me switch off. Come up with something fresh. Don't worry about what the other man is doing; just do you and come up with something that'll make everyone go 'wow'. I started off imitating myself but it gets you nowhere. Being unique is what gets you noticed.
Q3: You also rap – was that a more recent thing?
I actually started off rapping and beatboxing in secondary school, but it was the beatboxing that captured me the most. I went back to rapping in 2010 when I released the Bigg Taj EP.
I'm on and off with rapping because I don't feel the need to write songs if I've nothing to say. My newest release. 'Superstar Sardar' is something that I'm very happy with because I took my time on it and actually had something to say.
Q4: What lessons could South Asian emcees learn about the scenes in Scotland/Britain and vice versa?
To be honest, I'm not sure what lessons we could take from each other because I think British and Indian hip hop is pretty similar. I pay attention to the music over in India: it's pretty raw, like the music we make here, and there's an emphasis on lyricism (at least from what I've heard). You also get the commercial side of things, too, which you get in the UK as well.
Q5: You hail from Glasgow's Sikh community and have talked about topics related to politics, culture and race. Can you speak a little bit about how your own background and experiences have influenced the way you write music?
Yeah, I write from experience or from things I've heard and seen. I've grown up being stereotypes, racially abused both online and in real life, and received a lot of ignorant comments and whatnot. I think TV and the newspapers are a lot to blame when it comes to my people being stereotyped.
Also, I don't think we are represented in the media much at all. How can I get played on BBC Asian Network, for example, but on BBC Radio Scotland? Why aren't any of those radio hosts or DJs playing any music that represents my background and experiences?
People are always talking about wanting to hear the truth, something that pushes boundaries? Is that not what I'm doing? Is that not what Singh Mahoon, Seti X or L Fresh the Lion are doing? Is there no space for us?
That's the type of stuff I'm trying to get across. When I say rep the minority, I don't mean just black and Brown people; I mean those affected by cuts, the kids getting bullied, the person who's too afraid to speak up and the youth in general. My stories come from my young people [Taj also works as a youth worker]. That's what I represent: the truth. That's what my music is based on.
Q6: Are you familiar with many South Asian emcees, either in the UK or in South Asia itself?
Yeah, specifically Indian emcees. You've got Singh Mahoon, Seti X, L Fresh the Lion, Humble the Poet, MC Kaur, HSK, Fateh, Sikh Knowledge, Hoodini and loads more.
Q7: Can you talk a little about your newest project, Superstar Sardar? What are the main themes you explore on the album etc.?
The main themes are the issues we face as people: corruption, media bias, stereotyping, low income and big corporations milking us dry. The sad part is that it's hard to avoid these things – we all get caught up in it and sometimes need to be to make ends meet.
I understand that but my whole thing is the bigger picture about being free, free to be me, free to be you. Do what you want to do, hold your own and make sure you live a life that satisfies you. Try not to get down about the system.
My youth work (the Young People Army, as we're called) is at the base of my lyrics and themes. That's the type of shit I think of on the daily!
Q8: You also collaborate with Spee Six Nine regularly – I was a big fan of Verses 2 in particular. How did that originally come about?
It's hard to pinpoint how it first came about. It just progressed naturally into what it is now. Spee and I have been gigging for quite some time and smashing it up everywhere we go, so I guess it was natural for us to release a project together.
We dropped 'Verses 1' and 'Verses 2' to great feedback, both of which were free releases. We are working on 'Verses 3' now, which has a more soulful sound than the previous 2 releases.

Q9: Finally, what can we expect from you over the next year?
I'm working on my next album, which I've got some beats for. I'm also working on a new set with some live instruments and other things, so stay tuned for. I'll be doing shows soon – I always get withdrawal symptoms if I don't get on stage.
You can catch me busking here and there in Scottish cities Glasgow and Edinburgh. I hope to hit up a few other places as well.
You can keep up with Taj's gigs and music at www.biggtaj.com. Links to his latest EP, 'Superstar Sardar', are available there.