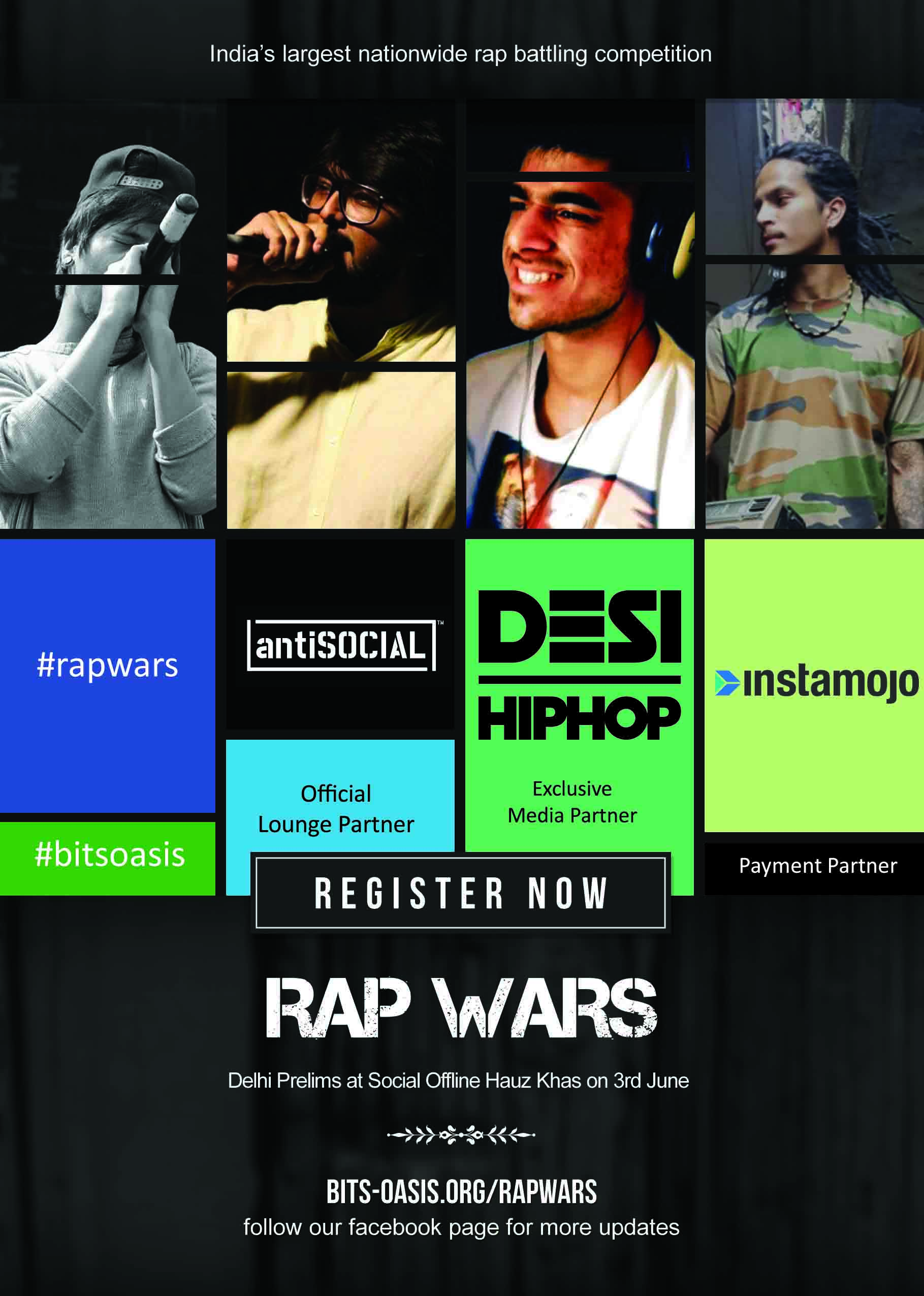 The so called 'Golden Era' (mid-to-late 90s) when almost any rapper whose name you knew had a platinum record has been lost in the annals of Hip-hop. However India seem to be picking itself up from the dismal trenches hip-hop had been confined to, some years back, and the youth are single-handedly driving this juggernaut. If recent signs are anything to go by, we're indeed staring at an oasis(pun intended), and not a mere mirage in the distance. There is a fresh breed of underrated emcees who no longer satisfy their creative urges with hits or downloads. The hip-hop scene in India is gaining some serious momentum as many upcoming talents are releasing physical albums and even performing at top venues in the metros.
BITS Pilani, Pilani Campus has been propelling the hip-hop wave for 5 years now. Rap Wars – one of the kernel events at Oasis (the second largest cultural fest in Asia held at BITS Pilani, Pilani Campus) is the largest nationwide rap battling competition in India and enters into its sixth year. The eliminations for the much awaited event are already underway, as the battle comes to the capitol in style. After witnessing some sensational performances in Bangalore, the stage is set as the fight to the top get even hotter. After all, it's Delhi!
Shashwat Mishra aka The Quixotic, Yash Chandra aka Youngsta Ash and Prikshit Gupta aka Parry G, will be judging the event. Well known for his versatility and unconventional verses, The Quixotic is also the co-founder of Underground Music League (UML). Youngsta Ash (of Freshman fame) rapping since a young age of 14, brings extensive experience to the table. Last but certainly not the least, Parry G – the first Indian rapper to have reached the Grand Finale in India's Got Talent will complete the judging panel. Mc Heam, A Delhiite himself, will be hosting the event. DJ Runjun will be adding the funk and setting the evening ablaze with the grooviest beats from his set.
Head over on 3rd June to Social Offline in Hauz Khaz, where fresh faces will slog it out with upcoming talents in the flourishing battle rap scene of Northern India. The eliminations will be held from 7-11 PM. Visit RapWars for additional information and registration assistance. Further Prelims to take place at Mumbai and Kolkata with dates soon to be announced. The finals will be held in BITS Pilani campus during Oasis '16 between the 19th and 23rd of October, when the event will be staged for an audience of more than 3,000 people.