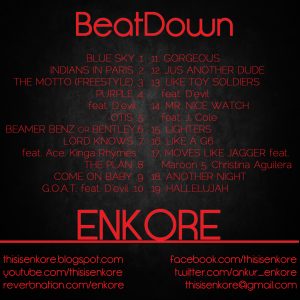 Enkore from underground Desi Hip-Hop crew Monkey Rhymes releases his 2012 mixtape "BeatDown".
"Looking forward to the tape and making love with them tracks :p sabse pehle Just another Dude and Hallelujah" says one of the artists fan Vinay Narang.
"The First Thing i did when i Woke Up was Downloaded the Mixtape, My eyes were half Closed and I was on My Mobile, Why i did that? ITS WORTH THE SHIT!!!!" says, Emcee Feral who gives props to his fellow Emcee.
Get "BeatDown" by Enkore: Download it now
DesiHipHop.com got our eyes on this young Desi Hip-Hop act reppin' Mumbai!