Hip Hop has always been a genre full of talented folks, and outside the box thinkers. This means that Hip Hop labels always had to find a way into the mainstream in creative ways. When Def Jam first started operations, they were not known by music listeners around the world. They made some key decisions, and some key signings, and boom, Hip Hop breathed life in the industry. This also meant that large worldwide labels followed suit and took over the industry – but only for a short time.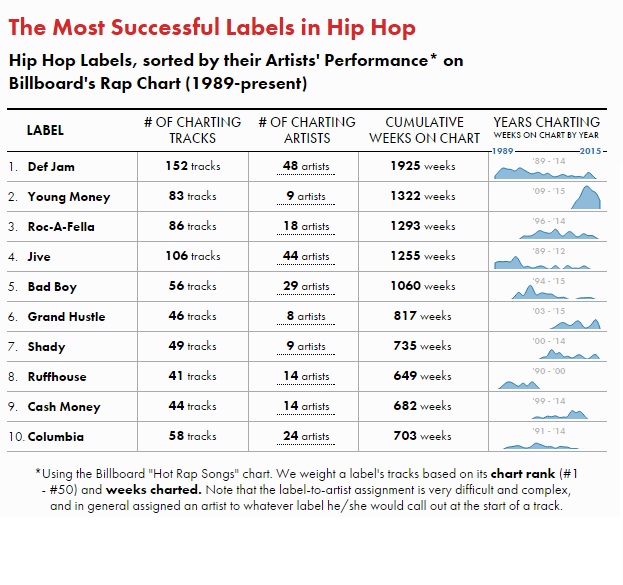 Major Labels Dominated the '90s
However, when Hip Hop started out, it was dominated by Major labels dominating the East Coast & the West Coast.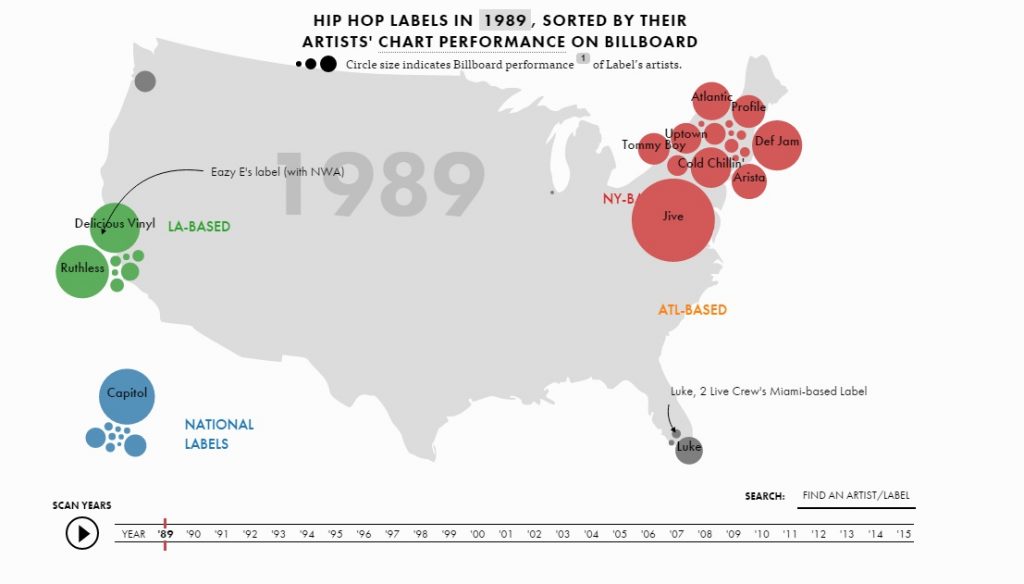 A majority of the top hits in the above map shows artists signed to major labels – Jive, Capitol, Atlantic, etc. This shows a time when most artists needed that major label push to reach the masses.
However, fast forward to 2010, and the picture is quite different…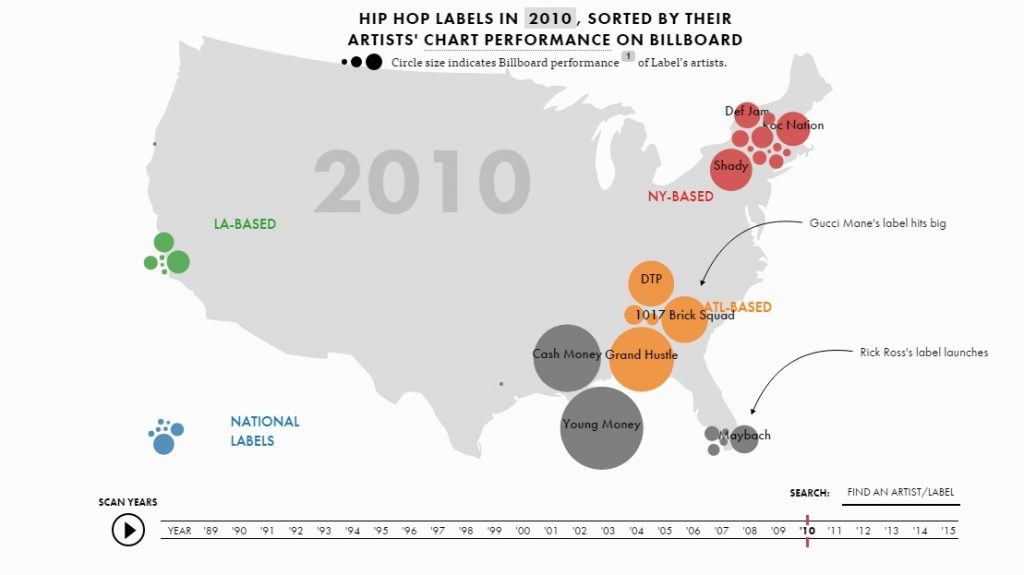 Small Labels Took It Over in the 2000s
In 2010, we saw privately owned labels succeed. Small labels showed their resilience. Labels like Grand Hustle (T.I.), DTP (Ludacris), Young Money (Lil Wayne, Birdman), etc. succeeded more than national labels like Universal Music or Atlantic Records.
In 2013, Macklemore and Ryan Lewis opened the eyes to more independent artists when they trumped every major label to create their own label and succeed heavily with their "start up". Artists don't need the big-budget marketing and distribution of major labels – they start with a grassroots social media following. Chance the Rapper is still unsigned. Fetty Wap recently signed a deal with 300 Entertainment, but it was only after he had a huge hit with Trap Queen. Instead of several, chart-dominating labels, hits are increasingly released by small, local labels (or even self-released).
in 2015, that trend stands strong with small to midsize labels succeeding.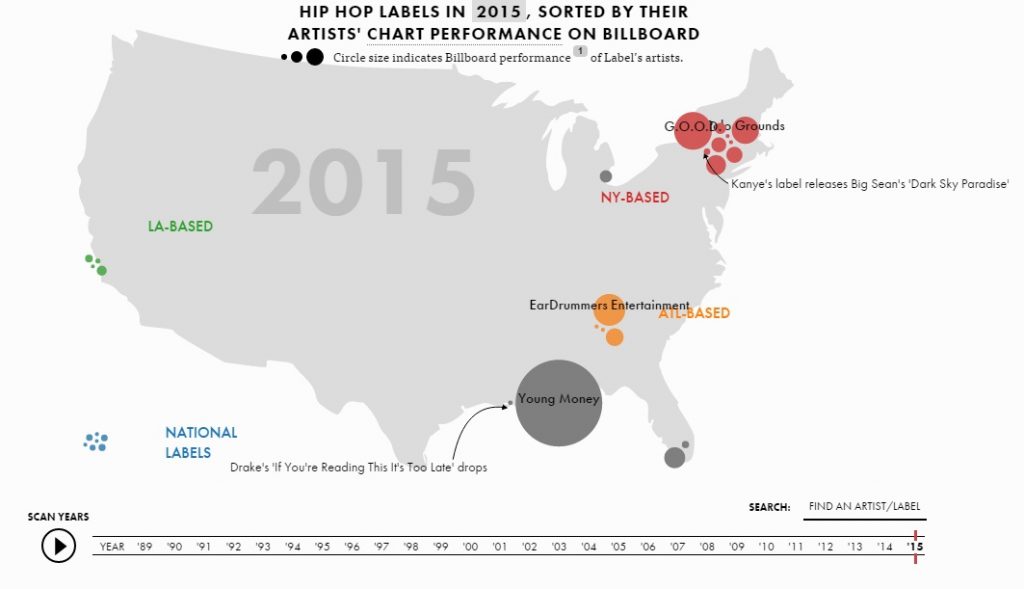 End of an Era for Large Labels
For each of the past 5 years, Young Money has dominated the charts. But even Young Money began operations more than 20 years ago as a small start up. They found their initial success by being small, and by marketing locally in the ATL area. Their strategy back then was far different from what they have going on now. Now, Drake, Wayne, Nicki Minaj are lined up to create big hits. However, when Young Money first started out, it was all about the grassroots growth and branding.
In today's generation of social media, internet, youtube, and with all the wonderful privileges we enjoy, it means labels can focus on longevity rather than big hits. Without the gatekeepers for distribution, labels and artists make a living without money flowing through major labels. Rhymesayers' model has sustained for 20 years, staying small and working with artists who have deep fan bases rather than the potential for massive commercial success. Tyler the Creator's Odd Future Records, Fools Gold (Kid Cudi, Danny Brown, Run the Jewels), and Strange Music (Tech n9ne, Murs, MayDay) don't operate as chart-dominating entities (a nice outcome, but not their focus) – in today's music landscape, they can viably support themselves with a loyal, niche market.
All this means that Young Money might be the last commercially-dominating label in hip hop, an end of an era.