According to Billboard the Grammy award-winning hip hop recording artist, producer and entrepreneur Diddy Combs (aka Puff Daddy), will curate the in-game soundtrack for WWE 2K17. Puff is a keen wrestling fan and tells Billboard that he "loves the intensity and the competition involved". As a result, he chose songs that bring the same type of energy.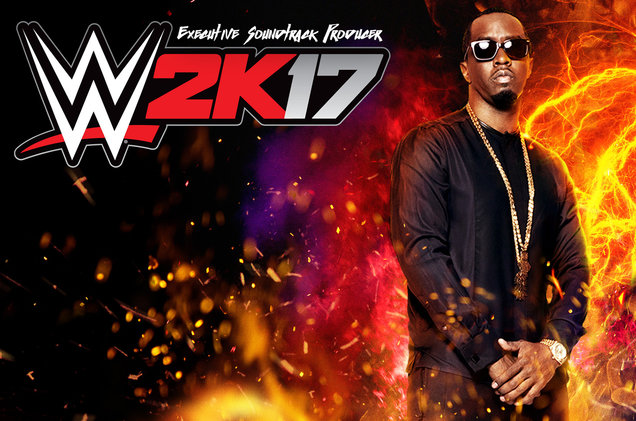 He said "While prepping for the upcoming Bad Boy 20-Year Family Reunion Tour, I've been thinking a lot about the past and the artists that inspired me. I mixed some of my favorites with some of the best new acts in the game today to create something really special."
The WWE 2K17 in-game soundtrack selected by Puff Daddy will include:
Action Bronson & Joey Bada$$ (feat. Rico Love) – "What About The Rest Of Us"
Anderson .Paak – "Come Down"
Andy Black – "We Don't Have To Dance"
Axwell Λ Ingrosso – "This Time"
Black Sabbath – "Paranoid"
Bring Me The Horizon – "Run"
FIDLAR – "Drone"
French Montana (feat. Kodak Black) – "Lockjaw"
iSHi (feat. French Montana, Wale, & Raekwon) – "We Run"
P. Diddy, Black Rob & Mark Curry – "Bad Boy For Life"
Travis Barker & Yelawolf – "Out of Control"
Twenty One Pilots – "Ride"
Yellow Claw (feat. Lil Eddie) – "We Made It"
He previously rocked the WWE Universe as the headlining musical act of WrestleMania 29 and as a featured Tribute to the Troops performer.