A lot of music has been released since we last released a Hot 5 of The Week, but worry not, we have some dope drops already in line to get your feet moving! We are back with the 50th list of some of the best hip hop tunes to drop in the past few weeks.
Again this is not a list in a descending or ascending order. It is merely a compilation of some of the best tunes to drop in the Desi Hip Hop scene since the past few days. In no particular order, we have arranged a few songs that will get you in the mood to vibe to Hip-Hop.
1) Dee MC x Black Zang – No Boundaries
Hip Hop Queen Dee MC teams up with the best out of the Bangladesh – Black Zang to bring to all of us a track that goes literally beyond boundaries. Aptly named "No Boundaries", the track highlights the state of mind of both the MC's and also the cultural backgrounds that they come from. It is a smooth, vibe out track that will give you a glimpse of what can happen when two emcees gracefully do their parts on a track.
Games have focus to bring out some of the best sides of each of their sounds, and the music video has quickly gained over more than a hundred thousand views within a week of release. We hope to see more such collaborations occur within the desi hip hop scenario. Watch the video for no boundaries below and let us know what you think!
2) Enkore – Chance He Nahi
Bombay Hip Hop heavyweight Enkore recently dropped his latest visuals for a single named "Chance He Nahi". The mellow tunes in this track are not to be confused with the power that it packs. "Chance He Nahi" is a message to the people, it sheds light on the importance of being true, true to oneself and true to the world around us. The song was mixed and mastered by Dream Team members DJ Blunt and Wide Octaves.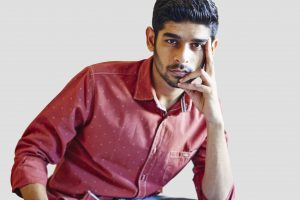 The video is a simple mix of vibes with Enkore narrating the lyrics to the song playing with the members of the dream team. Also featured in the music video is the stellar Bboy out of India – Bboy Flying Machine. He also showcases some of his moves in the video. The song tends to be a reflection of not just Enkore, but also a mirror to society and the viewers themselves. Check out Enkores craftsmanship on the single down below and let us know what you think.
3) Sun J x MC Heam x Slyck 2Shadez – Khatarnaak Launda
3 of the most versatile emcees out of the Delhi Hip-Hop scene come together in a brilliant fashion and bring to you a hard hitting, raw, hardcore Hip Hop track. The trio of Sun J, MC Heam, and Slyck 2Shadez can never go wrong when it comes to bars and delivery. The range of flows are immense and their knowledge about Hip-Hop is as vast as it gets.
All three of them have shined on this track and it's difficult to pick who had the better verse, so we leave that choice up to you. Khatarnaak Launda is definitely essential to the whole sound of hip hop in India today, because it represents and symbolises a very raw aspect of hip Hop that is missing in a majority sense Of The sound.
Slyck and Zan from 2ShadeZ recently released their album "Street Ghazals". The album also features Sun J and the Khatarnaak Crew apart from singer Shizty. Click here to stream the album.
4) Jay Kila – Mere Paas Maal Hai
Next on this list is one of the most entertaining videos to come out recently. Jay Kila brings to all of us "Mere Paas Maal Hai". This is a fun rendition of the famous Bollywood dialogue, and the song and video do justice to the whole concept. It is a great site to see and a sound to hear, coming from the hip hop scenario in India, because we observe that there are so many different sounds and stories being presented in different ways all around the country.
There is good creativity involved in the making of this video and the story line to the video has to be seen to be enjoyed the best. Jay Kila puts up a Bollywood-esque ensemble of dance crews, choruses and even the verses are minimalistic but entertaining all at once. The video was shot near Madh Island in Bombay, and has a tacky/quirky edginess to it that can't be ignored. A great piece to sit back and enjoy.
Watch the music video for the very entertaining mere paas maal hai bye Jay Kila and let us know your thoughts in the comments section!
5) X-Centrik – Elsewhere Evolution Series
If you've been following underground Hip Hop in India through the ages, a name that would pop up in pockets here and there is "Elsewhere". Elsewhere is a rap super group consisting of 6 members – Poetik Justis, Kav-E, EMF, Noxious, Infamous and X-Centrik.
Besides being the Co-founder of India's premier battle rap League – B3 India, they also one of the most versatile bunch of emcees that have been a part of the scene for a long time. And now the time has finally come for them to act as a crew, and they have already dropped 6 video series called "Elsewhere Evolution". Starting with the first of the video series – X-Centrik.
The video was so simple yet very creatively made and explains a very complex concept in a fashionably upbeat/comical way. Comical in the sense that it is a satirical take on evolution as a concept. And X even relates the evolution of man to music and forms this perfect body of work. The noteworthy beat making is presented by Dorian X – the producer of elsewhere. Dorian gave an old school touch to the beat and it worked wonders with the style that X flowed with.
Watch the videos for the elsewhere evolution series down below and let us know you thought had the best video and song!
Honorary Mention – Haji Springer | Keede
US bred Desi Haji Springer has donned a new rap avatar. The lead single from his upcoming album "Dava" dropped on Valentine's this year."Dava" will be unlike anything Haji's fans have heard from him before. The album explores more of his new Hindi rap style, with production that bangs hard! Stay tuned with us for pre-release news, interviews, music videos and much more. Till then watch his latest drop and share your views with us.
Watch "Keede" By Haji Springer Here –