Desi Hip Hop wishes all its readers a very prosperous new year! We hope to witness more amazing music this year. Let's talk about the top 6 Hip Hop numbers which were released by various artists lately. Do check them out and let us know what you think – are they hot or not!
(Note: this list is not in ascending or descending order, the artists are handpicked for the quality of their songs!)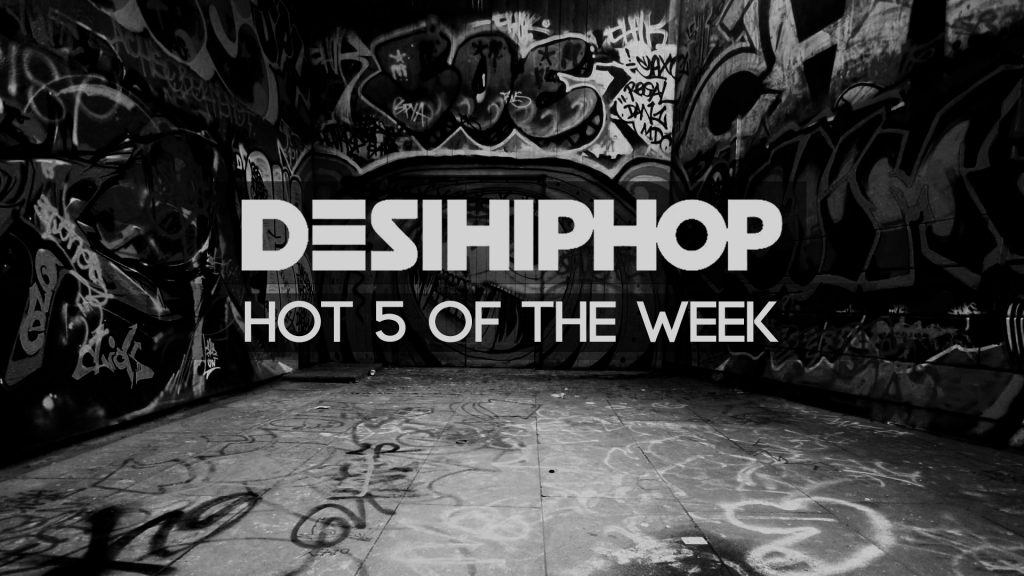 Son of Jesus | Sun J X Shizty
Unlike most of the rap songs we came across last month, this one is completely out of the box. It is a philosophical track that is beautifully shot and directed in monochrome. In this number rapper Sun J can be seen slaying his verses in Hindi. Furthermore, Shizty's soulful singing adds a different soothing vibe to the track. You can see Sun J's sick story-narrating skills in this song which will definitely make you fall in love with it.
Pankh feat. Bawari Basanti (Prod. by Sez On The Beat) | Seedhe Maut | Azadi Records
The duo Seedhe Maut rapped in this track which is coupled with beautiful vocals by Bawari Basanti and the amazing beat by none other than Sez. This song gives away a strong message about the typical Indian education system and how kids are forced to let go of their passion and do what the society wants them to do. This music video comprises of amazing visuals and all the artists who are a part of this amazing song have played their part perfectly!
Jhol Jhal | Loka X MC Altaf X D'evil | Crazyvibe
Dropped on December 29, 2018, Jhol Jhal is a crazy track. This song features rapper Loka along with MC Altaf and D'evil, the trio can be seen killing the beat in this fun song with their rhymes and multi-schemes. The song talks about the typical "jhol-jhal" that takes place every day in Mumbai and across the world. Directed by Shubham Dolas, the mix and mastering has been done by Aniket Jain and Bhavesh Thakur is the editor of this song.
Magizchi – The Casteless Collective
Another music video that released lately which is definitely hot is  Magizchi. All the Desi Hip-Hop lovers digging the raps from the South side will be delighted to check this one out! Even if you don't understand the lyrics, it's the energising vibe of this track that will take over you. The music, flow and video are brilliantly worked upon and this number is a must check! Stony Psycho, Dopedaddy, Arivu and Logan are the lyricists of this song. The title of this song Magizhchi means happiness, glee, excitement, joy, etc. Give us your feeds about this song in the comment section below.
Shut The F**k Up | HHB X Noxious | Timepass Tuesday Freestyle | #TTF | Hip-Hop 2019
So in the midst of all these well planned and directed tracks, two artists named HHB and Noxious dropped a freestyle which is titled Shut The F**k Up. The duo dropped this music video which has been shot and edited by Meghna Bhalla. While HHB created the music for this freestyle which is amazing, Noxious dropped a great verse doing justice to the beat. This one is definitely worth a listen so if you haven't checked it yet, do it right away!
Drinks Up | Official Music Video | Loka X Meme Machine X Shez Ft. Anushka Mitra | Crazyvibe
Drinks Up, is a collaboration between Loka, Meme Machine and Shez, who came up with the lyrics. The music video also features Anushka Mitra. While the music is given by Crazyvibe, mixing and mastering has been done by Aniket Jain. It's basically a party number which is a cocktail of Hindi and English verses that talks about getting high, chilling and partying. Though the song doesn't give away any serious message, its a good number with music that provides the pep and thump needed for party animals to dance the night away. The music video was out on YouTube on December 25, 2018 and it fetched more than a lakh views within a week's time.