It's a new week and we're back with our Desi Hip Hop Hot 5 list for you all! Quarantined in our houses we don't have much else to do except for keep busy with work and play. Music is an inescapable escape from all that's happening around you. Our Hot 5 list aims to bring you the best from the Desi rap plethora.
This week's list has some newfound gems as well as industry veterans from South Asia. So sit back and relax with our weekly updated Global Hip Hop Playlist, in which our Hot 5 picks are regularly plugged in. Check the playlist out below!
Let's jump right into our Hot 5 of the week!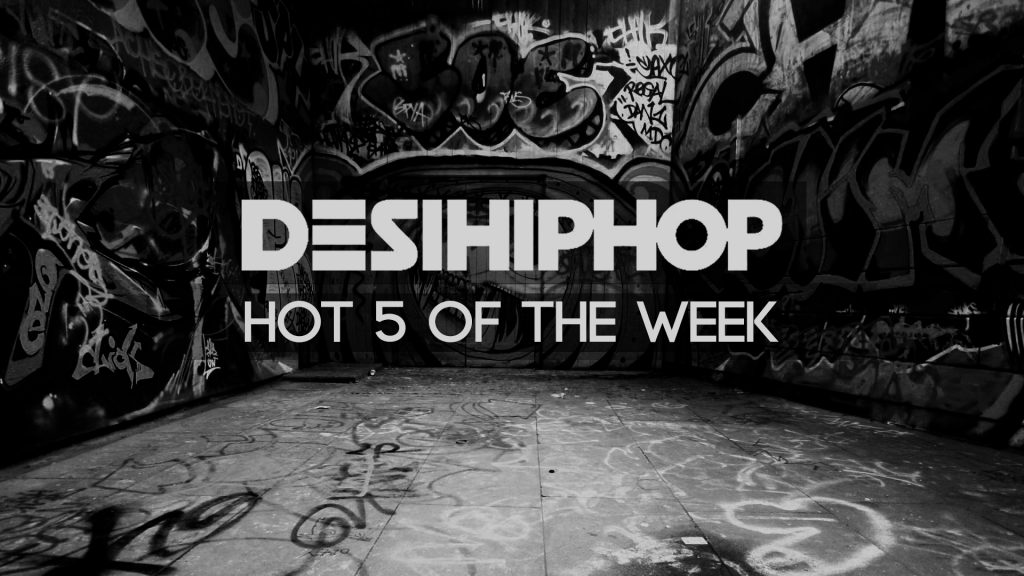 For you – Enkore
Mumbai based emcee Enkore has released a brand new music video after a long time. One of the pioneers of the hip hop scene, Enkore has experienced its rise first hand. His old school vocal tone and jazzy approach to his music carved a niche audience for his sound. 'For You' is a motivational song through which Enkore reaches out to anyone who is trying to forge their own path, despite not getting much support. Join us tonight on The Fifth Element to catch Enkore live with Dee MC at 9 PM IST. Watch 'For You' below.
Flex – Brodha V
Bangalore based emcee Brodha V set a benchmark almost a decade ago that has been hard to surpass. His clever English bars coupled with his musical sensibilities make for the perfect song each time. 'Flex' is a splendid music video full of wit, laid back attitude and swag. Brodha V busts out some moves in the video that could surely turn into a dance challenge. With every video he releases, V has been gradually expanding his own skillset. 'Flex' has already garnered over 3 million views. Watch the video below.

Beer & Biryani – Hanumankind
Raised in Houston and based in Bangalore, this Malayali emcee pays homage to his roots in every track. With a butter smooth flow and effortless delivery, Hanumankind captures your attention with his impeccable screen presence. The bass heavy beat by Parimal Shais will make you put this joint on repeat. Music video is again a one take video with enough attitude to make you feel the groove. Check the Beer & Biryani vibe here!
Adda – Archies
The Bangla rap scene is burgeoning with every passing year. One of the freshest voices we have come across is young emcee Archiesman Kundu aka Archies. A mix of old school and new school, his Bangla rhymes are gathering more and more audience with every release. Adda Freestyle is his latest release and this less than two minute song is on repeat among fans. We'll definitely be enjoying & keeping an eye on this young Bengali emcee from Kolkata.
I'm a chinkey – Big Deal
Big Deal has never been the one to stay quiet in the face of adversity. He's always been vocal about things that he feels need to be changed. Big Deal who hails from Odisha was raised in Bangalore. His efforts to raise awareness about the racism North East Indians face in their own country has gained lot of appreciation from his audience. 'I'm a Chinkey' aims at raising awareness about the racism North East Indians face in their own motherland. Under representation on the big screen, judgement from the society, the recent harassment during the corona pandemic are just few of the things Big Deal raps about in this powerful music video. Watch it here.